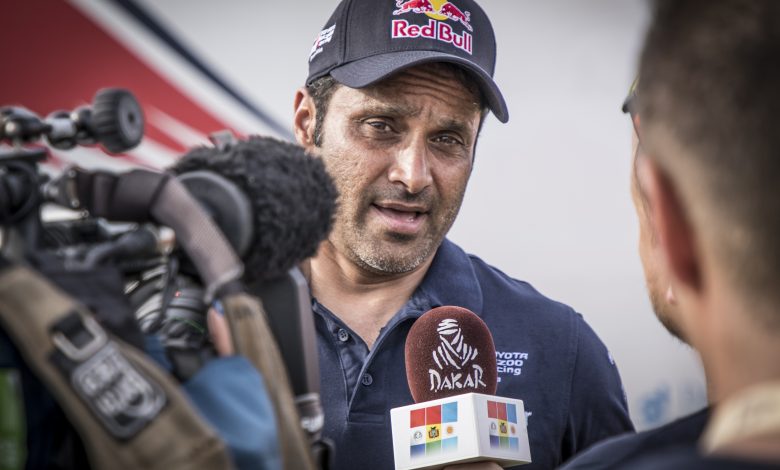 🐎Various
Our world champion Nasser al-Attiyah details his survival after his car caught fire in the Spanish Rally
بطلنا العالمي ناصر العطية يروي تفاصيل نجاته بعد اشتعال سيارته في رالي اسبانيا
Al-Raya – WGOQatar Translations 
Spain: Our world champion Nasser bin Saleh al-Attiyah was keen to reassure his fans after his car caught fire during his participation in the second round of the 2020 Spanish Rally Championship, he got out of the championship in the second round of the rally representing the Rally Teri da Agua after he was the leader of the first round on board his car (Volkswagen Polo GTI R5) from the Spanish team Arvedal racing.
Our hero Al-Attiyah confirmed that he was not harmed and got out of his car with his navigator Matthew Pomel without any injuries, and assured our fans everywhere that we are safe.
Al-Attiyah said: "Our car suddenly caught fire due to the leakage of one of the pipes on the selensor (turbo) which led to the fire, and when I noticed the fire burning close to me i slowed down the speed of the car and stopped it immediately, and I quickly extinguished the fire with my navigator Matthew Pomel.
Al-Attiyah continued: "Things were going normally and we led the first stage of the rally, but in the second round happened what was unexpected or in mind which is the burning of the car, this is the will of God and his ability, pointing out that this incident is one of the things that always happens in the world of rally, and will not dissuade us from continuing our journey and will increase our determination and strength to complete the journey.
He continued: As we know motorsport is very dangerous and needs boldness, courage and challenge, and this is our destiny that we have become world champions in the rally and my goal is always to keep in mind the raising of the flag of Qatar high-flying in international forums.
Al-Attiyah's participation comes as part of his preparations for the rest of the 2020 Middle East Rally Championship, where he tops the overall standings and is considered the most prominent candidate for the title this season after being interrupted by the Corona pandemic, which will be held in October and November, the Cyprus International Rally, which will be held from October 17-18 and the Lebanon Rally from (15-16) next November, the remaining two rounds of the Middle East Rally Championship 2020.

اسبانيا – الراية:
حرص بطلنا العالمي ناصر بن صالح العطية على طمأنة جماهيره ومحبيه بعد اشتعال النيران في سيارته خلال مشاركته في الجولة الثانية من بطولة اسبانيا للراليات 2020، ليخرج من البطولة في الجولة الثانية للرالي التي تمثل (رالي تيري دا أغوا) بعدما كان متصدرا الجولة الأولى على متن سيارته ( فولكس فاجن بولو جي تي آي R5 ) من تحضير فريق أرفيدال الاسباني للسباقات.
وأكد بطلنا العطية انه لم يتعرض لأي أذي وخرج سليما معاف من سيارته مع ملاحه ماثيو بوميل دون أي اصابات، وأطمئن جماهيرنا في كل مكان بأننا سالمين.
وقال العطية:"تعرضنا لاشتعال النار في سيارتنا بشكل مفاجئ بسبب تسرب أحد أنابيب الآيل على السلنسر ( التربو) مما أدى لحدوث احتراق، وعندما لاحظت النار مشتعلة قريبة مني خففت سرعة السيارة وأوقفتها على الفور ، وقمت بأقصى سرعة بإطفاء الحريق مع ملاحي ماثيو بوميل.
وواصل العطية قائلا:"كانت الأمور تسير بشكل طبيعي وتصدرنا المرحلة الأولى من الرالي ولكن في الجولة الثانية حدث ما لم يكن متوقعاً أو في الحسبان وهو اشتعال النار في السيارة، وقدر الله وما شاء فعل، هذه إرادة الله وقدرته، مشيرا إلى ان هذا الحادث من الأمور التي تحدث دائماً في عالم الراليات، ولن يثنينا عن مواصلة مشوارنا بل يزيدنا اصراراً وقوة على تكملة المشوار.
واستطرد قائلا: كما نعلم رياضة السيارات خطرة جداً وتحتاج إلى جرأة وشجاعة وتحدي ، وهذا قدرنا أننا أصبحنا من أبطال العالم في الراليات وهدفي دائما أن أضع نصب عيني رفع راية قطر عالية خفاقة في المحافل الدولية.
وتأتي مشاركة العطية في إطار استعداداته للمشاركة في باقي جولات بطولة الشرق الأوسط للراليات 2020 والتي يتصدر ترتيبها العام وأبرز المرشحين للفوز بلقبها هذا الموسم بعد توقفها بسبب جائحة كورونا، والتي تقام سباقاتها في أكتوبر ونوفمبر وهما رالي قبرص الدولي الذي يُقام خلال الفترة من (17-18) أكتوبر القادم ورالي لبنان خلال الفترة من (15-16) من نوفمبر القادم وهما الجولتات المتبقيتان من بطولة الشرق الأوسط للراليات 2020.
المصدر: raya