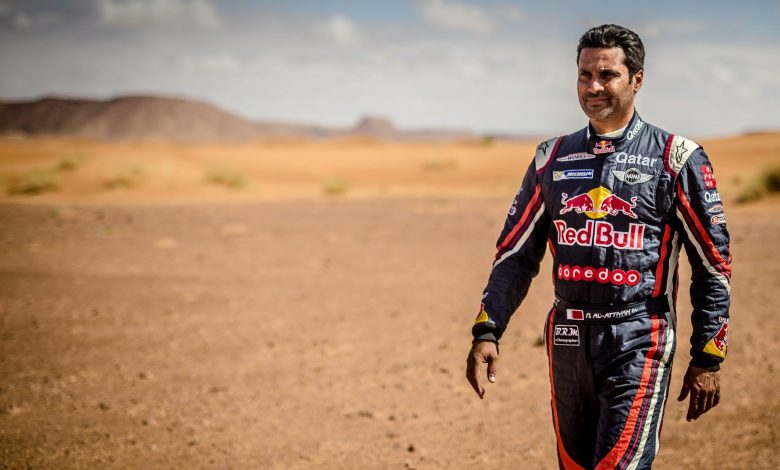 🐎Various
Nasser al-Attiyah withdraws from the second round of the Spanish Rally Championship
انسحاب ناصر العطية من الجولة الثانية لبطولة إسبانيا للراليات
QNA
Madrid: Qatari champion Nasser bin Saleh al-Attiyah withdrew from the Teri da Agua rally, the second round of the 2020 Spanish Rally Championship, after his car caught fire during the second stage of the rally today, the fire was extinguished very quickly.
Al-Attiyah, who confirmed he got out of the accident safe and sound with his French navigator Matthew Pomel, was leading the first stage on the second day of the "Teri da Agua Rally".
The Qatari champion said in a press statement: "Today our car caught fire suddenly and the reason is the leak of the oil through the pipes on the selensor (turbo), and when I noticed the fire burning close to me i reduced the speed of the car and stopped it immediately, and I put out the fire with my French navigator Matthew Pomel."
He added: "I was the leader of the first stage of the race [Rally Teri da Agua] but in the second stage something unexpected happened which is the fire, of course this incident is one of the things that always happens in the rally, and this will not deter us from continuing our journey, but it will increase our determination and strength to complete it, as we know motorsport is very dangerous and needs courage and challenge, and we have become one of the world champions in the rally, and my goal is always to raise the flag of Qatar high in international forums."
The second round of the Spanish Championship saw the participation of 74 crew members, and its stages were reduced due to the coronavirus pandemic (Covid-19) to a length of 100.42 km.
Al-Attiyah participated in one of the rounds of the Spanish Rally Championship as part of his preparation program to restore his physical and mental fitness, and his intensive preparations for the Middle East Rally Championship 2020 and the Dakar International Rally scheduled for January.

قنا
مدريد: انسحب البطل القطري ناصر بن صالح العطية من رالي /تيري دا أغوا/، الذي يمثل الجولة الثانية من بطولة إسبانيا للراليات 2020، بعد اشتعال النار في سيارته خلال المرحلة الثانية من الرالي اليوم، وإطفاء الحريق بسرعة كبيرة.
وكان العطية الذي أكد خروجه من الحادث سليما ومعافى مع ملاحه الفرنسي ماثيو بوميل، متصدرا للمرحلة الأولى في اليوم الثاني من (رالي تيري دا أغوا ).
وقال البطل القطري في تصريح صحفي: "تعرضنا اليوم لاشتعال النار في سيارتنا بشكل مفاجئ والسبب هو تسرب الآيل (الزيت) عبر الأنابيب على السلنسر (التربو)، وعندما لاحظت النار مشتعلة قريبة مني خففت سرعة السيارة وأوقفتها على الفور، وقمت بأقصى سرعة بإطفاء الحريق مع ملاحي الفرنسي ماثيو بوميل".
وأضاف: "كنت متصدرا للمرحلة الأولى من سباق /رالي تيري دا أغوا/ ولكن في المرحلة الثانية حدث ما لم يكن في الحسبان وهو اشتعال النار، طبعا هذا الحادث من الأمور التي تقع دائما في الراليات، وهذا لن يثنينا عن مواصلة مشوارنا بل يزيدنا إصرارا وقوة على تكملته، كما نعلم رياضة السيارات خطرة جدا وتحتاج إلى جرأة وشجاعة وتحد، وقدرنا أننا أصبحنا من أبطال العالم في الراليات، وهدفي دائما أن أرفع راية قطر عالية خفاقة في المحافل الدولية".
وشهدت الجولة الثانية من بطولة إسبانيا مشاركة 74 طاقما، وتم تقليص مراحلها بسبب جائحة فيروس كورونا /كوفيد – 19/، ليبلغ طولها 100.42 كلم.
وشارك العطية في منافسات إحدى جولات بطولة إسبانيا للراليات وذلك في إطار برنامج إعداده لاستعادة لياقته البدنية والذهنية، واستعداداته المكثفة لخوض منافسات بطولة الشرق الأوسط للراليات 2020 ورالي دكار الدولي المقرر في يناير المقبل.