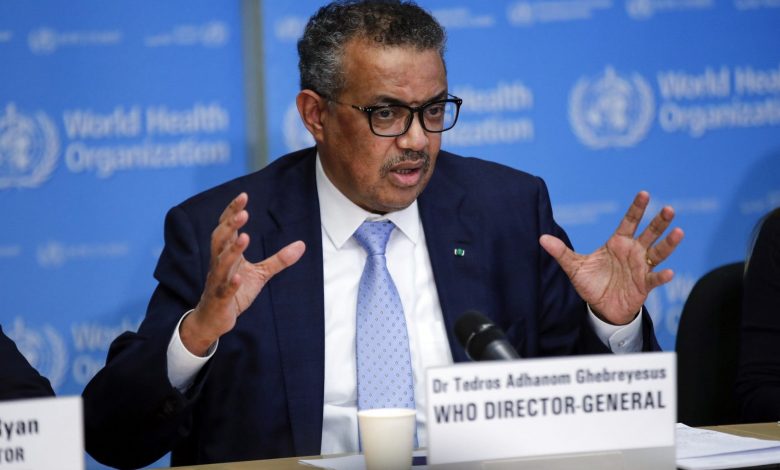 الصحة العالمية واليونيسف توقّعان إطار تعاون لتسريع جهود الصحة العامة
QNA 
Geneva: The World Health Organization (WHO) and the United Nations Children's Fund (UNICEF) signed a joint cooperation framework to accelerate public health efforts.
"The new Strategic Collaboration Framework builds on a robust 70-year collaboration between the two organizations, and prioritizes four strategic areas for immediate attention and action at all levels of the organizations: universal health coverage, through a primary health care and health systems approach; mental health and psychosocial wellbeing and development; public health emergencies; and maternal and child nutrition," WHO said in a statement.
"The two organizations signed a new Joint Program on Mental Health and Psychosocial Well-being and Development of Children and Adolescents. This 10-year collaborative effort will promote mental health and psychosocial well-being and development, increase access to care for mental health conditions, reduce suffering and enhance quality of life among children and adolescents, and their caregivers," the statement added.
"The COVID-19 pandemic has exposed huge gaps in accessing health, well-being and nutrition services among children and vulnerable populations," said Henrietta Fore, UNICEF Executive Director. "There has never been a more urgent need to work together. This new framework will help us strengthen health and food systems, and invest in mental health and psychosocial support in every country in the world."
"At the heart of our work with UNICEF is seeing that every child not only survives but ultimately thrives and transforms their communities and future generations," said Dr. Tedros Adhanom Ghebreyesus, WHO Director-General. "With great appreciation and respect for our unique and complementary roles, we stand together in our commitment to achieve health for all. As this pandemic demonstrates, no-one is safe until everyone is safe."

قنا
جنيف: وقعت منظمتا الصحة العالمية، والأمم المتحدة للطفولة /اليونيسف/، إطار تعاون مشترك لتسريع جهود الصحة العامة.
وقال بيان لمنظمة الصحة العالمية، اليوم، إن الشراكة الجديدة تنص على تعاون قوي لــ70 عامًا بين المنظمتين لاتخاذ إجراءات رئيسة في مجالات التغطية الصحية الشاملة من خلال نهج الرعاية الصحية الأولية والنظم الصحية، والصحة العقلية والرفاه النفسي والاجتماعي والتنمية، وحالات طوارئ الصحة العامة، وتغذية الأم والطفل.
وأشار البيان كذلك إلى توقيع المنظمتين برنامجا مشتركا جديدا حول الصحة العقلية والرفاه النفسي والاجتماعي وتنمية الأطفال والمراهقين لـ10 سنوات بهدف تعزيز الصحة العقلية والرفاه النفسي والاجتماعي والتنمية، وزيادة الوصول إلى الرعاية لحالات الصحة العقلية، وتقليل المعاناة وتحسين نوعية الحياة بين الأطفال والمراهقين ومقدّمي الرعاية.
وقالت السيدة هنريتا فور المديرة التنفيذية لليونيسف إن جائحة /كوفيد – 19/، كشفت عن فجوات هائلة في الوصول إلى خدمات الصحة والرفاهية والتغذية بين الأطفال والفئات السكانية الضعيفة.
وأضافت "سيساعدنا هذا الإطار الجديد على تعزيز النظم الصحية والغذائية، والاستثمار في الصحة العقلية والدعم النفسي والاجتماعي في العالم".
من جهته، قال السيد تيدروس غيبريسوس المدير العام لمنظمة الصحة العالمية "إن جوهر هذا التعاون هو أن كل طفل يجب ألا ينجو فحسب بل يزدهر في النهاية للمساهمة في تغيير مجتمعاته والأجيال القادمة".