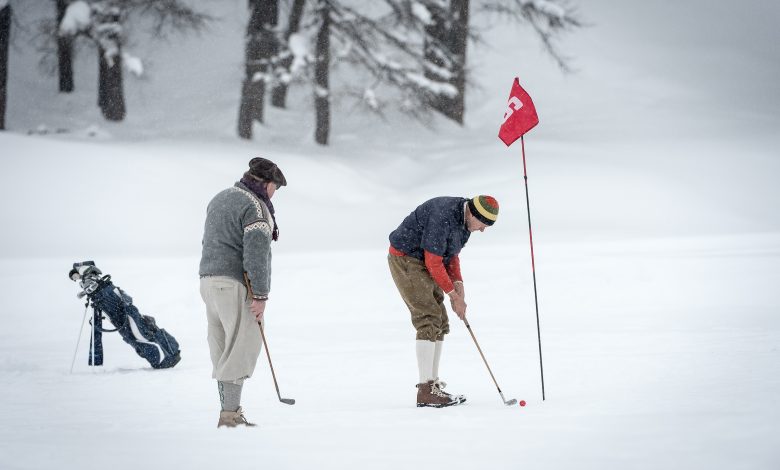 😎 LifeStyle
🌍 World
Not for the faint-hearted .. Here are the world's strangest golf courses amid snow and mountain peaks
ليست لأصحاب القلوب الضعيفة .. إليكم أغرب ملاعب الغولف في العالم بين الثلوج وقمم الجبال
(CNN)
Are you a fan of golf and nature? In fact, you can bring the two together when you practice your favorite sport next time! Here are the world's strangest golf courses.
The World Snow Golf Championship is held on Greenland island, where temperatures drop to 50°C below zero. The island is 600 kilometres north of the Arctic Circle, where players must adapt to frozen rivers and icebergs.
Thus, the winner is lifted over the traditional dog sled after his victory. Certainly, this tournament is not a tournament for the weak hearts.
In indonesia's warmer climate, a golf course can be found in the shadow of the active Mount Mirabi volcano.
Indonesia alerted the residents of the volcano in October 2010, ordering people living nearby to evacuate. The strongest volcanic eruption dates back to 1930, when about 1,300 people were killed.
The Kabul Golf Club describes itself as the "best and only" course in Afghanistan, where an armed security guard stands next to the entrance.
If you want to play the 19th hole at The Legend Golf Resort, you must take the helicopter to the starting point, located on top of a mountain.
In New Zealand, Arikikapakapa Rotorua Golf Club is composed of 18 holes. The golf club includes a 9-hole thermal course, flooded with hot springs and hot fountains. The golf course is located next to the "Whakarewarewa" thermal reserve.
For the Brickyard Crossing Golf Club, it consists of 4 holes inside the Indianapolis 500 motor race.
Located on New Zealand's North Island, Cape Kidnapers Golf Course is one of the most beautiful places in the world. At the top of the cliffs overlooking a spectacular view, players have to cross the deep cracks between each hole.
In various locations around the world, playing golf on sand is popular , with Irishman Padraig Harrington scoring in the 17th hole at the Abu Dhabi World Golf Championships at Ghazal Golf Club in 2004.
Finally, Bolivia's "La Paz" golf club is the highest in the world, with parts of the course at an altitude of 3,000 and 342 meters above sea level.
Source: arabic.cnn

(CNN)
هل أنت من محبي الغولف والطبيعة؟ في الواقع، يمكنك أن تجمع الاثنين معاً عند ممارسة رياضتك المفضلة في المرة القادمة! إليكم أغرب ملاعب الغولف في العالم.
تقام بطولة العالم للغولف الثلجي في جزيرة جرينلاند، حيث تنخفض الحرارة إلى 50 درجة مئوية تحت الصفر. وتقع الجزيرة على بعد 600 كيلومتر شمال الدائرة القطبية الشمالية، إذ يجب أن يتكيف اللاعبون مع الأنهار المتجمدة والجبال الجليدية.
وبالتالي، يتم رفع الفائز فوق زلاجة الكلاب التقليدية بعد تحقيق نصره. وبالتأكيد، لا تعد هذه البطولة لأصحاب القلوب الضعيفة.
وفي الأجواء الأكثر دفئاً في إندونيسيا، يمكن العثور على ملعب للغولف في ظل بركان جبل ميرابي النشط.
ونبهت إندونيسيا بشأن البركان في أكتوبر/ تشرين الأول 2010، حيث أمرت الأشخاص الذين يعيشون بقربه بالإخلاء. ويذكر أن أقوى ثوران بركاني يعود إلى العام 1930، حيث قتل حوالي 1300 شخص.
ويصف نادي "كابول" للغولف نفسه بكونه الملعب "الأفضل والوحيد" في أفغانستان، حيث يقف حارس أمن مسلح بجانب المدخل. 
وإذا أردت أن تلعب الحفرة الـ19 في منتجع "ليجيندز" للغولف، يجب أن تستقل المروحية إلى نقطة الانطلاق، وهي موجودة على قمة جبل.
وفي نيوزيلندا، يتألف نادي "Arikikapakapa Rotorua" للغولف من 18 حفرة. ويشمل نادي الغولف ملعباً حرارياً من 9 حفر، حيث تغمره الينابيع الساخنة والفوارات الحارة. كما يقع ملعب الغولف إلى جانب محمية "Whakarewarewa" الحرارية.
وبالنسبة إلى نادي "بريكيارد كروسينغ" للغولف، فهو يتألف من 4 حفر داخل حلقة سباق إنديانابولس 500 للسيارات.
ويقع ملعب "كيب كيدنابيرز" للغولف في الجزيرة الشمالية بنيوزيلندا، ويعتبر أحد أجمل الأماكن في العالم. وفي أعلى المنحدرات المطلة على منظر خلاب، يتعين على اللاعبين عبور الشقوق العميقة بين كل حفرة. 
وفي مواقع مختلفة بالعالم، تشتهر رياضة الغولف على الرمال، حيث سجل الإيرلندي، بادريج هارينجتون، ضربته في الحفرة الـ 17، خلال بطولة أبوظبي العالمية للغولف في نادي الغزال للغولف عام 2004.
وأخيراً، يعتبر نادي "لاباز" للغولف في بوليفيا هو الأعلى في العالم، حيث توجد أجزاء من الملعب على ارتفاع 3 آلاف و342 متراً، فوق مستوى سطح البحر. 
المصدر: arabic.cnn