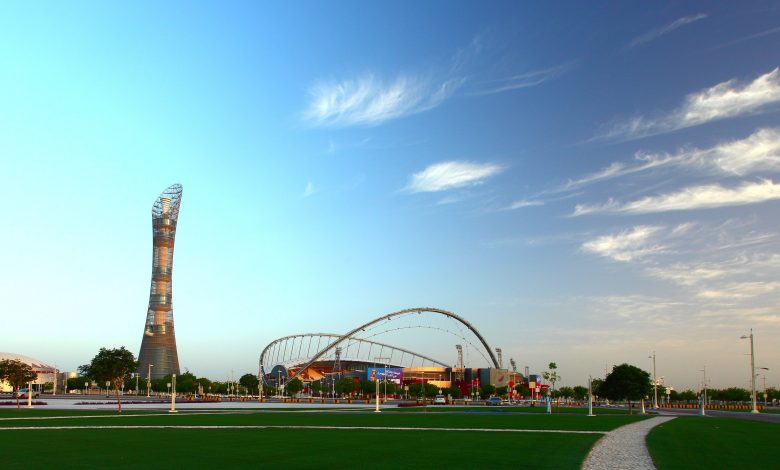 ⚽ QSL
QSL: There Is Specific Mechanism to Choose Venues for Stars League Matches
مؤسسة دوري نجوم قطر: هناك آلية يتم من خلالها اختيار الملاعب التي تلعب عليها مباريات الدوري
QNA – Doha:
Qatar Stars League (QSL) emphasized that there is a specific mechanism to choose the venues for QNB Stars League matches for the season 2020-2021, the most important of which is their readiness to host matches and schedule of periodic maintenance approved and specified by the Ministry of Culture and Sports and Supreme Committee for Delivery and Legacy, besides coordination with all relevant stakeholders. A meeting was held with club coaches, and their suggestions and observations were taken into consideration in decision-making.
On a press release issued on Sunday on stadiums to be used and the schedule of matches for the first weeks of the season, QSL noted that Al Janoub Stadium and Jassim bin Hamad Stadium hosted the last five rounds of 2019-2020 season QNB Stars League (30 matches), which made it necessary for these venues to undergo regular maintenance. Regarding the Khalifa International Stadium, it is currently being prepared to host the AFC Champions League.
Regarding the Education City Stadium hosting the matches of Al Sadd and Al Duhail in the first rounds of QNB Stars League, this decision was taken after the AFC confirmed that Education City would be among the stadiums hosting the AFC Champions League, it added.
With regard to not holding more than one match a day at the Education City Stadium, it is difficult at present as the stadium will soon host a number of AFC Champions League matches, QSL said in the press release.
Regarding the start of 2020-2021 season and some enquiries about this timing, QSL said that the calendar for this season is hectic due to the large number of events, tournaments and various participations, be it for clubs or national teams, as it has been taken into account after studying and discussing all perceptions, options and proposals with the relevant authorities and partners.
The QSL affirms that it considers all clubs as equal. The relationship is reiterated by a close bond of values, solid foundation and firm principles that uphold equality, justice and mutual respect, especially since clubs are partners of success.

الدوحة – قنا:
أكدت مؤسسة دوري نجوم قطر أن هناك آلية محددة يتم من خلالها اختيار الملاعب التي تلعب عليها مباريات دوري نجوم QNB لهذا الموسم 2020- 2021، أهمها مدى جاهزيتها لاستضافة المباريات، وجدول عمليات الصيانة الدورية المُعتمد والمُحدد من وزارة الثقافة والرياضة واللجنة العليا للمشاريع والإرث، بالإضافة إلى أنه يتم التنسيق مع كافة الجهات المعنية ذات الصلة في تحديد ملاعب المباريات، حيث تم الاجتماع مع مدربي الأندية والاستماع لمقترحاتهم وملاحظاتهم من مبدأ المشاركة في اتخاذ القرار.
وأوضحت المؤسسة في بيان صحفي أصدرته اليوم حول الملاعب التي يتم استخدامها وجدول مباريات الأسابيع الأولى من مسابقة دوري نجوم QNB لهذا الموسم 2020- 2021، أنه بخصوص (استاد الجنوب استاد جاسم بن حمد)، فإن الملعبين قد استضافا الجولات الخمس الأخيرة من دوري نجوم QNB للموسم الماضي (30 مباراة) وهو ما أدى إلى دخولهما الصيانة الدورية المُحددة مُسبقا، وفيما يتعلق بإستاد خليفة الدولي فإنه يخضع حاليا للتجهيز استعدادا لاستضافة دوري أبطال آسيا.
وأضاف البيان أنه فيما يخص استضافة استاد المدينة التعليمية لمباريات نادي السد ونادي الدحيل خلال الجولات الأولى من بطولة دوري نجوم QNB فقد تم اتخاذ هذا القرار بعد تأكيد الاتحاد الآسيوي لكرة القدم بأن الملعب سوف يكون من ضمن الملاعب المُستضيفة لدوري أبطال آسيا.
وأكمل البيان :"فيما يتعلق بعدم إقامة أكثر من مباراة في اليوم الواحد على استاد المدينة التعليمية، فإن ذلك يصعب حاليا، حيث إن الملعب سوف يستضيف عددا من مباريات دوري أبطال آسيا قريبا".
أما بخصوص بداية منافسات الموسم 2020- 2021 واستفسارات البعض عن عدم الانتظار لما بعد انتهاء بطولة دوري أبطال آسيا، فأكد البيان أن رزنامة هذا الموسم مضغوطة بسبب كثرة الاستحقاقات والبطولات والمشاركات المختلفة سواء للأندية أو المنتخبات الوطنية، حيث تم مراعاة أن تكون البداية في هذا التوقيت بعد دراسة ومناقشة كل التصورات والخيارات والمقترحات مع الجهات ذات الصلة والشركاء.
وشددت مؤسسة دوري نجوم قطر على أنها تقف على مسافة واحدة من جميع الأندية، وترتبط معها برباط وثيق من القيم والأسس المتينة والمبادئ الراسخة التي تُعلي شأن المساواة والعدالة ويسودها الاحترام المتبادل، لاسيما وأن الأندية شركاء النجاح.