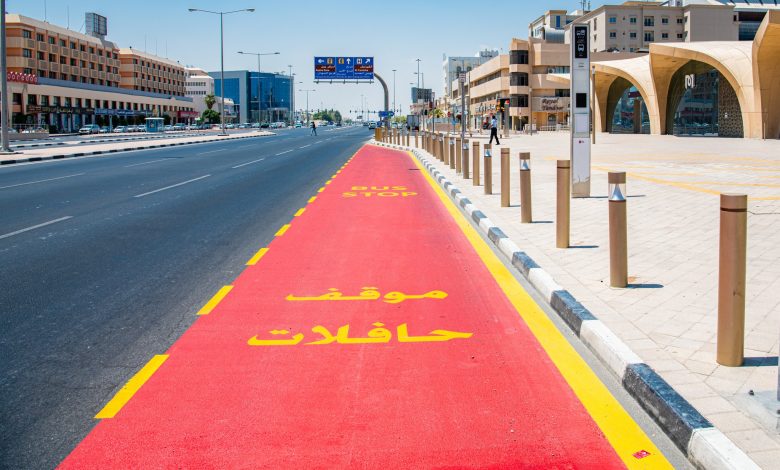 قطر ريل تجهز ٣٠٠ موقف للحافلات قرب محطات مترو الدوحة
The Peninsula Online – Doha:
Qatar Rail is preparing 300 bus stops near Doha Metro stations. This will help commuters get in and out of the Metrolink buses.
These stops, marked in bright red colour, are already present outside many Doha Metro stations.
Metrolink also resumed services from September 1 on 17 selected routes and operate from 6am to 11pm on Sunday to Wednesday, 6 am to 11:59 pm on Thursday and 2 pm to 11:50 pm on Friday.
In line with the fourth phase of gradual lifting of COVID-19 curbs on public transit, Doha Metro resumed its services at 30% capacity from September 1. Prior to its resumption, Qatar Rail affirmed the safety of passengers as it implemented a series of precautionary and operational measures.
Doha Metro in coordination with Vodafone has started providing Wi-Fi services to commuters from September 1. The Wi-Fi services will be free for the first 30 minutes and additional minutes will be charged a fee.
Source: thepeninsulaqatar

الدوحة –  الراية:
أكدت شركة الريل أنها تعمل حاليًّا على تجهيز ٣٠٠ موقف للحافلات قرب محطات مترو الدوحة لنزول وصعود ركاب الحافلات في الشوارع العامة المجاورة للمحطات وتم تمييزها باللون الأحمر.
وأرفقت في تغريدة على حسابها الرسمي على تويتر أمس صورًا تظهر تمييز المواقف في الشوارع العامة في إطار جهودها المستمرة لتيسير استخدام خطوط المترو الثلاثة وتعزيز تجربة الركاب.
ويأتى ذلك تزامنًا مع عودة الخدمة للانطلاق بسعة استيعابية تصل إلى 30%، بالتزامن مع المرحلة الرابعة من تخفيف القيود المفروضة للحد من انتشار فيروس كورونا.
ويتوافد المئات من المواطنين والمقيمين على محطات الخطوط الثلاثة لركوب القطارات والتوجه إلى وجهات مُختلفة في ظل التقيد بسلسلة من الإجراءات الاحترازية والتشغيلية التي اتخذتها الريل بالتعاون مع وزارتي الصحة العامة والمواصلات والاتصالات.
وتجوب حافلات مترولينك شوارع الدوحة لنقل الركاب إلى المحطات لتيسير تدفق المواطنين والمُقيمين إلى المترو وسط التزام بالحفاظ على المسافات الآمنة داخل الباصات وارتداء الكمامات الطبية.
ومنذ اللحظات الأولى لدخول الركاب يبدأ على الفور تطبيق الإجراءات الاحترازية ويُطلب منهم إظهار حالتهم الصحيّة على تطبيق «احتراز»، وفحص درجة حرارتهم، قبل السماح بالركوب فقط للأفراد الذين تظهر حالتهم الصحية باللون الأخضر ولا تتجاوز درجات حرارتهم 37.8 درجة مئوية.
كما يتم التشديد على الركاب بالالتزام بارتداء كمامات الوجه عند دخولهم المحطة وطوال مدة الرحلة. ويتم مُراقبة جميع الإجراءات عن كثب من قبل كوادر الأمن وخدمة العملاء المُتواجدين في المحطات.
واتخذت شركة الريل مجموعة من الإجراءات الاحتياطية الهادفة إلى الحد من انتشار فيروس كورونا «كوفيد -19»، منها وضع مُعقمات الأيدي في عدة أماكن داخل المحطات وبجانب أجهزة شراء التذاكر وأرصفة القطارات.
وتم وضع مُلصقات إرشادية في أماكن الانتظار وبجانب أجهزة شراء التذاكر وبوّابات الدخول من أجل الحث على الالتزام بالتباعد الاجتماعي أثناء التواجد داخل الشبكة، وكذلك سيتم الإعلان بانتظام عن موعد وصول القطارات لتجنب الازدحام على رصيف القطارات.
وحظيت المصاعد بتطبيق إجراءات احترازية، إذ تم تطبيق حد أقصى وهو 4 أشخاص في وقت واحد وتم وضع لافتات توجّه المُستخدمين إلى شروط الاستخدام.
ويتواجد كادر مُخصص للقيام بأعمال التنظيف في جميع المحطات للقيام بالتنظيف الوافي والشامل للمحطات والقطارات بصفة دورية، بما في ذلك تعقيم كافة الأسطح التي يتم لمسها بصورة مُتكرّرة من قبل الجمهور مثل أجهزة شراء التذاكر والسلالم المُتحركة لضمان رحلة آمنة للجميع.
المصدر: raya