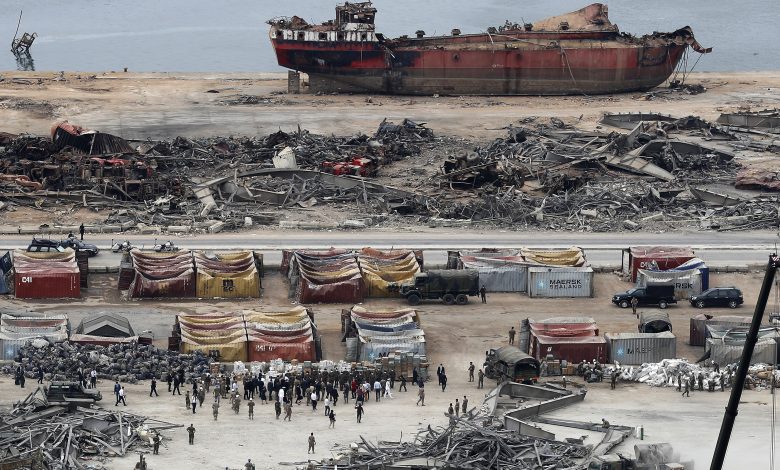 🌍 World
Before a new disaster occurs .. Lebanese Army finds 4 tons of ammonium near Beirut port
قبل وقوع كارثة جديدة .. الجيش اللبناني يعثر على ٤ أطنان أمونيوم قرب مرفأ بيروت
Al Sharq – WGOQatar Translations – Doha:
Nearly a month after the Beirut port explosion, the Lebanese army announced thursday that four containers containing more than 4 tons of ammonium nitrate were found near the port, the same substance that caused the huge explosion that left 191 people dead and more than 6,000 injured.
The Lebanese Army's Guidance Directorate said in a statement that "the Engineering Regiment inspected four containers in the customs station (wasteland) outside the port of Beirut, near entrance 9, at the request of the Port Customs Detachment."
"It was found that the containers contain a quantity of ammonium nitrate weighing about 4 tons and 350 kg," the statement added according to Anadolu Agency.
He noted that units from the Engineering Regiment were working to process the existing material, without further details.
On August 4th, a massive explosion in Beirut's port left 191 people dead, more than 6,000 injured and dozens missing, in addition to massive destruction and losses estimated at $15 billion, according to tentative official figures.
According to preliminary investigations, the explosion occurred in Ward 12 of the port, which authorities said contained some 2,750 tons of high-explosive ammonium nitrate, which had been confiscated and stored since 2014.
The Beirut explosion is compounding the pain of a country that has been suffering for months, the repercussions of a severe economic crisis and a severe political polarization, in a scene in which regional and international actors overlap.
Source: al-sharq

الدوحة – الشرق:
بعد نحو شهر على كارثة انفجار مرفأ بيروت، أعلن الجيش اللبناني، اليوم الخميس، العثور على 4 مستوعبات تحوي أكثر من 4 أطنان من مادة "نترات الأمونيوم"، قرب المرفأ، وهي ذات المادة المتسببة في الانفجار الضخم الذي خلف 191 قتيلا وأكثر من 6 آلاف جريح.
وقالت مديرية التوجيه بالجيش اللبناني، في بيان، إن "فوج الهندسة قام بالكشف على 4 مستوعبات في بورة الحجز (أرض بور) التابعة للجمارك خارج مرفأ بيروت، قرب المدخل رقم 9، بناءً على طلب من مفرزة جمارك المرفأ".
وأضاف البيان وفق الأناضول: "تبيّن أن المستوعبات تحتوي على كمية من مادة نيترات الأمونيوم تبلغ زنتها نحو 4 أطنان و350 كلغ".
وأشار أن وحدات من فوج الهندسة، تعمل على معالجة المادة الموجودة، دون مزيد من التفاصيل.
وفي 4 أغسطس الماضي، وقع انفجار هائل في مرفأ بيروت خلف 191 قتيلا وأكثر من 6 آلاف جريح، وعشرات المفقودين، بخلاف دمار هائل وخسائر تقدر بنحو 15 مليار دولار، وفق أرقام رسمية غير نهائية.
ووفق تحقيقات أولية، وقع الانفجار في عنبر 12 من المرفأ، الذي قالت السلطات إنه كان يحوي نحو 2750 طنا من "نترات الأمونيوم" شديدة الانفجار، كانت مصادرة ومخزنة منذ عام 2014.
ويزيد انفجار بيروت من أوجاع بلد يعاني منذ أشهر، تداعيات أزمة اقتصادية قاسية، واستقطابا سياسيا حادا، في مشهد تتداخل فيه أطراف إقليمية ودولية.
المصدر: al-sharq