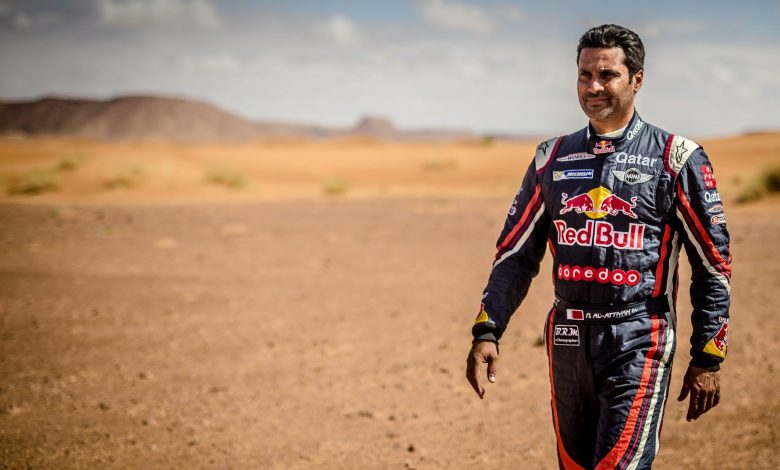 🐎Various
Qatar's Nasser Al Attiyah Seeks to Win Title of Baja Poland 2020
البطل القطري "ناصر العطية" يتطلع لإحراز لقب باها بولندا ٢٠٢٠
QNA – Warsaw:
Qatar's Nasser Al Attiyah is seeking to win the title of 12th round of Baja Poland 2020 when he participates in the key stages of the two-day rally on Saturday.
Nasser Al Attiyah, the winner of the 2017 title, will participate in the competition along with his co-driver Mathieu Baumel in Toyota Hilux.
The Qatari champion seeks to win this round, which is his first participation after a long hiatus due to the outbreak of the novel Coronavirus (Covid-19).
In the entire rally, the competitors will cover 406 km on the routes in Szczecin, Dobra and Drawsko Pomorskie.

وارسو – قنا:
يتطلع البطل القطري ناصر العطية لتحقيق لقب النسخة الثانية عشرة من رالي باها بولندا الجولة الثانية من بطولة العالم للباها، عندما يخوض غدا /السبت/ منافسات المراحل الرئيسية التي تستمر على مدار يومين.
ويخوض العطية، الفائز باللقب عام 2017، منافسات الرالي بصحبة ملاحه الفرنسي ماثيو بوميل وعلى متن سيارة "تويوتا هايلوكس"، وذلك ضمن فريق /جازوا ريسينج/ الجنوبي الإفريقي .
ويسعى البطل القطري إلى تحقيق الفوز في هذه الجولة، التي تعد المشاركة الأولى له بعد فترة توقف طويلة بسبب تفسي فيروس كورونا المستجد (كوفيد-19).
ويتألف رالي باها بولندا من سبع مراحل تمر في مدن شتششين، دراوسكو، بومورسكي، ودوبرا، ويبلغ مسافته الإجمالية حوالي 765.08 كلم منها 405.79 كلم مخصصة للسرعة.
وأجري العطية، الذي يتصدر قائمة المشاركين في باها بولندا، تدريبات مكثفة خلال اليومين الماضيين من أجل التعود على أجواء المنافسة، والتعرف على المراحل المختلفة، إضافة إلى التعود على السيارة.
وبجانب العطية، يشارك في منافسات الرالي مجموعة من ابرز سائقي الراليات العالميين، في مقدمتهم الروسي فلاديمير فاسيلييف على متن سيارة /بي أم دبليو أكس 3/ الذي توج بلقب البطولة في عام 2014، كما أنه أنهى الرالي في العام الماضي بالمركز الثالث.
ويشارك في المنافسات أيضا الفرنسي ستيفان بيترهانسيل على متن سيارة /ميني كوبر/، والهولندي بيرنهارد تين برينكي، والبولندي كريستوف هولوفزيك الذي حقق لقب الرالي ست مرات، والبولندي الآخر مارتن بروكوب الذي يستعد للعودة إلى المنافسات على متن سيارة "فورد رابتور"، إذ تمكن من احتلال المركز الرابع في الرالي العام الماضي.