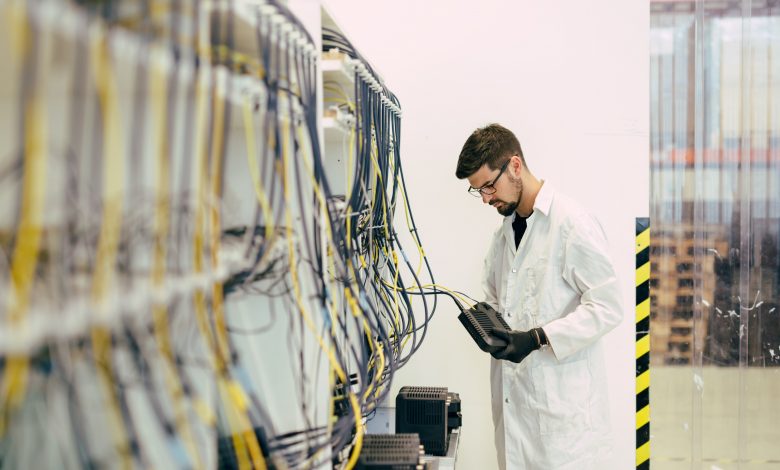 إطلاق مختبر مدى فاب لاب لتحقيق الشمولية في النفاذ الرقمي
QNA – Doha:
Assistive Technology Center (Mada) of the Ministry of Transport and Communications, in cooperation with ibTechar company, launched Mada FabLab, which has been approved by the Fab Foundation to be part of the international network of Fab Labs that includes more than 1,900 laboratories around the world.
Mada FabLab is an innovation and learning center, as it is a digital manufacturing laboratory equipped with devices and equipment that allow inventors, entrepreneurs, students and artists to transform their ideas and creativity into actual and practical reality, by designing prototypes for their innovations, as well as manufacturing them and sharing them with an interactive community of technologists, researchers, makers and innovators.
The launching of Mada FabLab came in line with the Mada strategy aimed at supporting inclusiveness and enhancing innovation in technological solutions, as the lab is a qualitative achievement at the regional and global level because of its pivotal role in achieving more comprehensiveness in the field of digital access by adopting a comprehensive design.
Mada Center aims to make Mada FabLab a global reference that contributes to bridging the digital gap by adopting the inclusion approach and encouraging the use of technology for more innovation and creativity. The significance of Mada FabLab lies in its interactive and accessible work environment, as it encourages everyone, including those with disabilities, to innovate, manufacture and transform creative ideas into inventions, and develop and exchange knowledge and experiences, which will contribute to achieving economically and socially sustainable development.
Mada FabLab will also have a major role in unleashing the potential and attracting distinguished innovators and inventors as well as bringing about revolutionary change in line with the rapid technological progress, considering it is a link and a turning point between information and communication technology and digital manufacturing. This greatly contributes to using accessibility to information and communication technology in the field of digital manufacturing and technological innovation that drives the development of society and which in turn constitutes an indicator of the progress of societies.
By launching the Mada FabLab as the first laboratory of its kind designed to be inclusive of all, Mada Center seeks to bring about a comprehensive positive change and further enhance innovation and production.
It also aims to design the space and environment of the laboratory not only for people with disabilities, but to open the field for all and make Mada FabLab a center designated for the creators and the building of a generation of makers and innovators in the fields of assistive technology as well as information and communication technology. The center believes in the importance of adopting innovation and keeping pace with the new industrial revolution based on artificial intelligence.
The comprehensive design of Mada FabLab represents a distinct and unique step in keeping with the technological revolution that the world is currently witnessing, and a milestone in the field of innovation and theoretical and applied technological advancement that will lead towards a societal transformation to digital comprehensiveness.
The term FabLab is an abbreviation of Fabrication Laboratory (FAB LAB), which expresses a new concept different from the traditional laboratories, launched by Massachusetts Institute of Technology (MIT) in 2005 to promote innovation and entrepreneurship by providing the appropriate environment and the necessary tools through workshops or a manufacturing laboratory supervised by a specialized team that provides support for innovators and people with creative ideas to develop them into prototypes of electronic products and devices that benefit society.

الدوحة – قنا:
أطلق مركز /مدى/ التابع لوزارة المواصلات والاتصالات مختبر /مدى فاب لاب/، بالتعاون مع شركة /ابتكار/، والذي تم اعتماده من قبل /مؤسسة فاب/، ليكون جزءا من الشبكة الدولية لمختبرات /فاب/ والتي تضم أكثر من 1900 مختبر حول العالم.
ويعد مختبر /مدى فاب لاب/ مركزاً للابتكار والتّعلم، فهو مختبر للتصنيع الرقمي مزود بالأجهزة والمعدات التي تتيح للمخترعين ورواد الأعمال والطلاب والفنانين تحويل أفكارهم وإبداعاتهم إلى واقع فعلي وعملي، وذلك من خلال تصميم النماذج الأولية لابتكاراتهم وتصنيعها ومشاركتها مع مجتمع تفاعلي من التقنيين والباحثين والصناع والمبتكرين.
وجاء إطلاق /مدى فاب لاب/ انطلاقًا من استراتيجية /مدى/ الرامية لدعم الشمولية وتعزيز الابتكار في الحلول التكنولوجية، حيث يعد المختبر إنجازًا نوعيًّا على المستوى الإقليمي والعالمي لما له من دور محوري في تحقيق المزيد من الشمولية في مجال النفاذ الرقمي من خلال تبني تصميمٍ شاملٍ.
ويهدف مركز /مدى/ إلى جعل /مدى فاب لاب/ مرجعًا عالميًّا يساهم في سدّ الفجوة الرقمية من خلال تبني نهج الشمولية والتشجيع على توظيف التكنولوجيا في المزيد من الابتكار والإبداع، حيث تكمن أهمية /مدى فاب لاب/ في أنه بمثابة بيئة عمل تفاعلية قابلة للنفاذ ومشجعة للجميع، بمن فيهم ذوو الإعاقة، على الابتكار والتصنيع وتحويل الأفكار الإبداعية إلى اختراعات وتطوير وتبادل المعارف والخبرات مما يسهم في تحقيق تنمية مستدامة اقتصاديًا واجتماعيًا.
كما سيكون لـ /مدى فاب لاب/ دورٌ كبيرٌ في إطلاق الإمكانات واستقطاب المتميزين من المبتكرين والمخترعين وإحداث تغيير ثوري يتوافق مع التقدم التكنولوجي المتسارع، فضلًا عن كونه حلقة وصل ونقطة تحول بين تكنولوجيا المعلومات والاتصالات والتصنيع الرقمي، والتي تسهم بشكل كبير في توظيف إمكانية النفاذ إلى تكنولوجيا المعلومات والاتصالات في مجال التصنيع الرقمي والابتكار التكنولوجي الذي يدفع عجلة التطور في المجتمع والذي يشكل بدوره مؤشرًا لتقدّم المجتمعات.
ومن خلال إطلاقه لمختبر /مدى فاب لاب/ كأول مختبرٍ من نوعه مصممٍ ليكون شاملًا للجميع، يسعى مركز /مدى/ إلى إحداث تغيير إيجابي أشمل وتعزيز أكبر للابتكار والإنتاج، كما يهدف إلى تصميم المساحة والبيئة الخاصة بالمختبر ليس لإدماج الأشخاص ذوي الإعاقة فحسب، بل لفتح المجال أمام الجميع وجعل /مدى فاب لاب/ مركزا لرعاية المبدعين وبناء جيلٍ من الصانعين والمبتكرين في مجال التكنولوجيا المساعدة وتكنولوجيا المعلومات والاتصالات إيمانًا من المركز بأهمية تبني الابتكار ومواكبة الثورة الصناعية الجديدة القائمة على الذكاء الاصطناعي.
يذكر أن تصميم /مدى فاب لاب/ الشامل يشكل خطوةً متميزة وفريدة مواكبة للثورة التكنولوجية التي يشهدها العالم الآن ومحطةً بارزةً في مجال الابتكار والتقدم التكنولوجي النظري والتطبيقي الذي سيقود نحو التحول المجتمعي إلى الشمولية الرقمية.
وظهر مصطلح /فاب لاب/ حديثًا وهو اختصار لعبارة Fabrication Laboratory "(FAB LAB)" (مختبر تصنيع) التي تعبر عن مفهومٍ جديدٍ مختلفٍ عن المختبرات التقليدية أطلقه (معهد ماساتشوستس للتكنولوجيا) عام 2005 لتعزيز الابتكار وريادة الأعمال عبر توفير البيئة المناسبة والأدوات اللازمة من خلال ورش عمل أو مختبر تصنيع يشرف عليه فريق مختص يقدم الدعم للمبتكرين وأصحاب الأفكار الإبداعية لتطوير أفكارهم إلى نماذج أولية لمنتجات وأجهزة إلكترونية تعمّ بالفائدة على المجتمع .