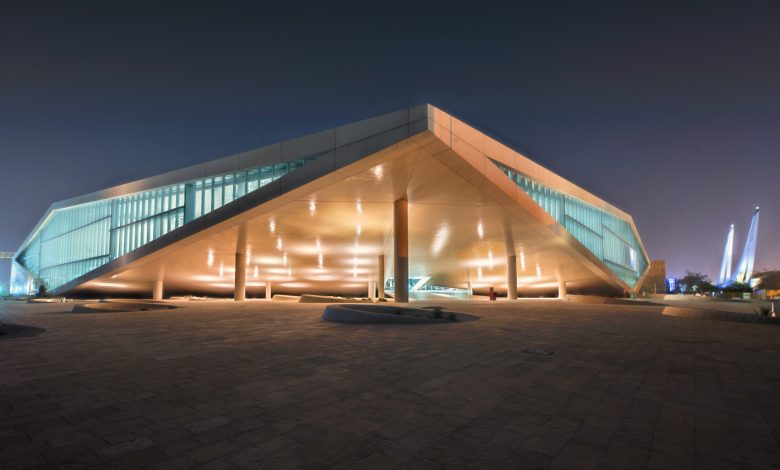 مكتبة قطر الوطنية تشارك في معرض الكتاب العربي الافتراضي في أوروبا
QNA – Stockholm:
Qatar National Library (QNL) is participating in Europe's first Arabic book fair, held via the European virtual platform specializing in Arabic book exhibits with 2D, 3D, and continues until Sep. 4, 2020.
The Arabic Book Fair in EU is the first of its kind to take place entirely virtually, organized by publishers Nordk Digital World and Dar Lusail Publishing, in collaboration with the Arabiskabazar.se website, which sells Arabic books to the European market.
Qatar National Library's involvement in the cultural program that is held on the side lines of the Fair will include a lecture revealing its efforts to support the preservation of documentary heritage, looking at future projects in countering the trafficking and illegal circulation of heritage items in the Middle East and North Africa region and neighboring countries.
Staff from the Library will also offer delegates information on Qatar Digital Library, a lecture on Qatari history, as well as a storytelling session from the Children and Young Adults team.
The Fair will take place in virtual environment, allowing visitors to roam between participating publishing houses displaying over 27,000 books. It encourages intellectual diversity between East and West, featuring distinguished guests from Sweden, Palestine, Lebanon, Syria, Jordan, Algeria, Morocco, Turkey, Netherlands, and Britain, in addition to Qatari involvement.
The cultural program will feature lectures by Arab writers, authors and thinkers, in addition to seminars on translation and publishing and ways to activate cooperation between the Arab region and Europe with regard to Arab culture. It will also feature seminars on the importance and mechanisms of teaching Arabic to children in Europe.
Amani Saleh Alyafei, Head of Science at Qatar National Library, said, "We are delighted to play a key role in this one-of-a-kind event. The Arabic Book Fair in EU features a distinguished cultural program in partnership with a whole host of important research centers, specialized institutions and other Arab book fairs.
"Qatar National Library facilitates knowledge acquisition by safeguarding the past, embracing the present, and helping to define the future. Being a part of such a dynamic event using the latest modern technology is vital as is our support for initiatives which reveal Arab culture to European audiences and encourage intellectual diversity wherever possible."

ستوكهولم – قنا:
تشارك مكتبة قطر الوطنية في أول معرض افتراضي للكتاب العربي في أوروبا، والذي يقام عبر المنصة الأوروبية الافتراضية المتخصصة بمعارض الكتاب العربي بتقنية 3D و2D، والذي يستمر حتى 4 سبتمبر المقبل.
ويهدف المعرض إلى نشر الثقافة العربية في أوروبا، بما في ذلك إطلاق جائزة مرموقة للكتاب العرب للشباب في أوروبا، والعديد من المبادرات المعنية بالنشر وتوزيع الكتب في أوروبا.
تتضمن مشاركة مكتبة قطر الوطنية في البرنامج الثقافي المصاحب للمعرض محاضرة عن جهودها في دعم الحفاظ على التراث الوثائقي، واستعراض المشاريع المستقبلية في مكافحة الاتجار والتداول غير القانوني للمواد التراثية في منطقة الشرق الأوسط وشمال أفريقيا والدول المجاورة.
يقام المعرض في بيئة افتراضية، ويتيح للزائرين التنقل بين دور النشر المشاركة التي تعرض أكثر من 27 ألف كتاب، كما يشجع المعرض على التنوع الفكري بين الشرق والغرب، ويضم ضيوفاً مميزين من السويد وفلسطين ولبنان وسوريا والأردن والجزائر والمغرب وتركيا وهولندا وبريطانيا، بالإضافة إلى المشاركة القطرية.
ويتضمن البرنامج الثقافي المصاحب للمعرض محاضرات يلقيها كتاب ومؤلفون ومفكرون عرب، بالإضافة إلى ندوات حول الترجمة والنشر وسبل تفعيل التعاون بين المنطقة العربية وأوروبا فيما يتعلق بالثقافة العربية، وندوات حول أهمية وآليات تعليم اللغة العربية للأطفال في أوروبا.
وقالت أماني صالح اليافعي، رئيس قسم العلوم بمكتبة قطر الوطنية إن معرض الكتاب العربي الافتراضي في أوروبا يشهد "برنامجًا ثقافيًا متميزًا بالشراكة مع مجموعة كبيرة من المراكز البحثية المهمة والمؤسسات المتخصصة ومعارض الكتاب العربية الأخرى، ونحن سعداء بالقيام بدور مهم في هذا المعرض الفريد من نوعه".
وأضافت "تعمل مكتبة قطر الوطنية على تيسير اكتساب المعرفة من خلال حماية تراث الماضي وتطبيق أدوات العصر والمساهمة في صناعة المستقبل. ومشاركتنا في هذا المعرض الحيوي باستخدام أحدث التقنيات الحديثة ضرورة مهمة كما هو الحال مع دعمنا للمبادرات التي تكشف عن الثقافة العربية للجمهور الأوروبي وتشجع على التنوع الفكري حيثما كان ذلك ممكنًا".