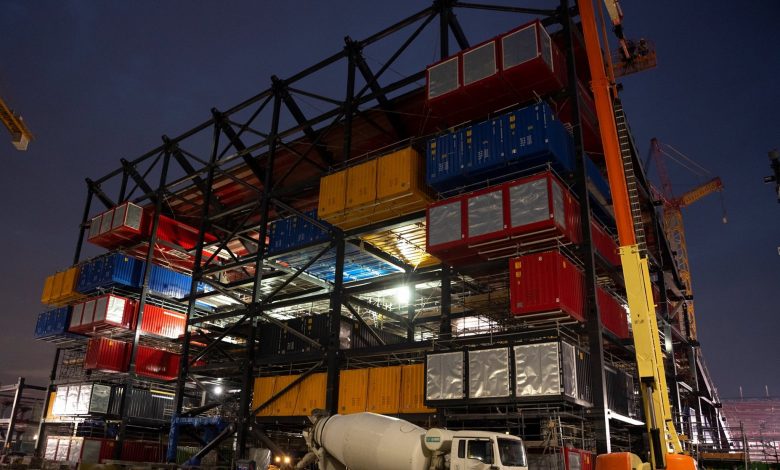 🏆2022
Ras Abu Aboud Stadium making steady progress: SC
استاد راس أبو عبود يحرز تقدماً منتظماً بحسب ما ذكرته اللجنة العليا
The Peninsula Online – Doha:
40,000-seat Ras Abu Aboud Stadium, a truly unique sporting venue, is making steady progress, Supreme Committee for Delivery and Legacy (SC) said in a tweet along with photographs of the under-construction stadium.
Constructed using shipping containers and modular elements, this 40,000-seat Qatar2022 World Cup venue will be entirely dismantled and repurposed post-2022, setting a new standard in tournament sustainability and legacy. Ras Abu Aboud will be the first FIFA World Cup venue to be fully dismantled and repurposed following the tournament.
Its parts will be used in other sporting or non-sporting projects, setting a new standard in sustainability and introducing bold new ideas in tournament legacy planning.
Source: thepeninsulaqatar

الدوحة – ذا بينينسولا أونلاين – ترجمة WGOQatar:
قالت اللجنة العليا للمشاريع والإرث في تغريدة على تويتر إلى جانب صور الاستاد تحت الإنشاء إن استاد راس أبو عبود الذي يتسع لـ40 ألف متفرج، وهو ملعب رياضي فريد حقاً، يحرز تقدماً منتظماً.
تم بناء هذا الصرح الذي يتسع لـ 40,000 مقعد والمخصص لنهائيات كأس العالم قطر 2022 باستخدام حاويات الشحن ووحدات البناء المفردة وسيتم تفكيكه بالكامل وإعادة توجيهه بعد عام 2022، مما يضع معيارًا جديدًا في استدامة تنظيم البطولات وإرثها. وسيكون راس أبو عبود أول استاد مخصص لكأس العالم لكرة القدم يتم تفكيكه وإعادة توظيفه بالكامل بعد البطولة.
سيتم استخدام أجزائه في مشاريع رياضية أخرى أو غير رياضية، مما يضع معيار جديد في الاستدامة، وإدخال أفكار جديدة جريئة في تخطيط إرث البطولات.
المصدر: thepeninsulaqatar