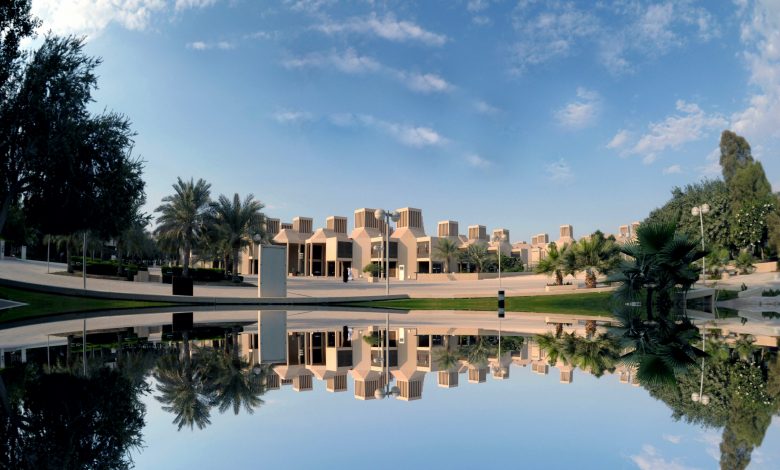 📚Education
Qatar University starts tomorrow semester without students attending
جامعة قطر تبدأ غدا الفصل الدراسي من دون حضور الطلاب
QNA – Doha:
The Fall 2020 semester at Qatar University (QU) begins today with the distance education system without students coming to the campus until the end of the third phase of lifting the restrictions imposed by the country to prevent the spread of the novel coronavirus (COVID-19).
QU's Vice-President for Student Affairs, Dr. Iman Mostafawi, emphasized the necessity for students to attend lectures remotely according to the academic calendar, as well as following their e-mails to see the circulars sent by the various departments at the university, in addition to regularly following up the blackboard system to ensure effective communication.
Dr. Mostafawi also called on students to follow COVID-19 precautionary measures, such as measuring temperature, wearing masks, observing social distancing, and activating the Ehteraz application, in the event that they are on the campus to receive textbooks.
For her part, Director of Academic Advising Center at Qatar University, Wedad Rebeeh, said that the work of academic counselling offices will continue remotely until the start of the fourth phase of lifting the restrictions imposed due to the virus, adding that meeting with the academic advisor will not require the student to personally attend the campus, but rather book an appointment to meet his academic advisor through the Appointment Manager system, to be contacted remotely by the advisor at the scheduled date.
She invited the students to book their appointment with the academic advisors as soon as possible on the appointment reservation system, emphasizing that the academic advising offices are working to facilitate the academic process for the students by guiding them to develop the appropriate study plan, steps for registration and important dates, helping them to adapt to the university environment, and helping them to achieve his personal, academic and professional goals according to their capabilities and personal inclinations.
According to the university calendar, the last date for deletion and addition is August 20, where students can delete or add courses electronically through the student self-service system (banner), and benefit from remote academic advising services through the online appointment reservation system.
The university is scheduled to announce later this month, the details of the steps for the gradual transition from distance to on campus education, as the decision will be applied to all students, except for the most vulnerable to disease and its complications, such as those with chronic diseases and pregnant women.

الدوحة – قنا:
يبدأ غدا الأحد، بجامعة قطر الفصل الدراسي خريف 2020 بنظام التعليم عن بعد بدون حضور الطلبة إلى الحرم الجامعي حتى نهاية المرحلة الثالثة من خطة رفع القيود المفروضة بالدولة للوقاية من فيروس كورونا /كوفيد – 19/.
وأكدت الدكتورة إيمان مصطفوي نائب رئيس الجامعة لشؤون الطلاب على ضرورة التزام الطلبة بحضور المحاضرات عن بعد وفق الجدول الدراسي المعلن عنه في التقويم الأكاديمي، إلى جانب متابعة كل منهم بريده الإلكتروني للاطلاع على التعاميم المرسلة من قبل مختلف الإدارات والأقسام في الجامعة، بالإضافة إلى متابعة نظام البلاك بورد بانتظام، لضمان التواصل الفعال مع أستاذ المقرر ومتابعة الدروس أولا بأول.
كما دعت الطلبة إلى اتباع الإجراءات الاحترازية للوقاية من فيروس كورونا مثل قياس درجة الحرارة، ولبس الكمام والتزام قواعد التباعد الاجتماعي وتفعيل تطبيق /احتراز/، في حال وجودهم بالحرم الجامعي لاستلام الكتب الدراسية.
وفي سياق متصل، قالت السيدة وداد ربيعة مدير مركز الإرشاد الأكاديمي في جامعة قطر، إن عمل مكاتب الإرشاد الأكاديمي سيستمر عن بعد حتى بدء المرحلة الرابعة من رفع القيود المفروضة بسبب الفيروس، ولن تتطلب مقابلة المرشد الأكاديمي حضور الطالب شخصيا إلى الحرم الجامعي.
وأضافت أنه يتعين على الطالب حجز موعد لمقابلة مرشده الأكاديمي من خلال نظام حجز المواعيد (Appointment Manager) ليتم التواصل معه عن بعد من قبل المرشد في الموعد المجدول.
ووجهت وداد ربيعة الطلبة إلى حجز موعد مع المرشد الأكاديمي في أقرب موعد متاح على نظام حجز المواعيد، وعدم تأجيله إلى وقت متأخر من فترة الحذف والإضافة.
وأكدت أن مكاتب الإرشاد الأكاديمي تعمل على تسهيل العملية الأكاديمية على الطالب من خلال إرشاده إلى وضع الخطة الدراسية المناسبة له وخطوات التسجيل والمواعيد المهمة ومساعدته على التكيف مع البيئة الجامعية، ومساعدته لتحقيق أهدافه الشخصية والأكاديمية والمهنية وفقا لقدراته وإمكانياته وميوله الشخصية.
وبحسب التقويم الجامعي، فإن آخر موعد للحذف والإضافة هو 20 أغسطس الجاري، حيث يمكن للطلبة حذف أو إضافة المقررات الدراسية إلكترونيا عن طريق نظام الخدمة الذاتية للطلبة /بانر/، والاستفادة من خدمات الإرشاد الأكاديمي عن بعد من خلال نظام حجوزات المواعيد الإلكتروني.
ومن المقرر أن تعلن الجامعة في وقت لاحق من الشهر الجاري، عن تفاصيل خطوات التحول التدريجي من التعليم عن بعد إلى التعليم بالطريقة الاعتيادية، والذي من المتوقع أن يتم بعد الدخول الناجح في المرحلة الرابعة من خطة الدولة لرفع القيود المفروضة، حيث سيطبق قرار الدراسة بالحضور المباشر في الحرم الجامعي على جميع الطلبة، باستثناء بعض فئاتهم الأكثر عرضة للإصابة بالمرض ومضاعفاته كأصحاب الأمراض المزمنة والنساء الحوامل.