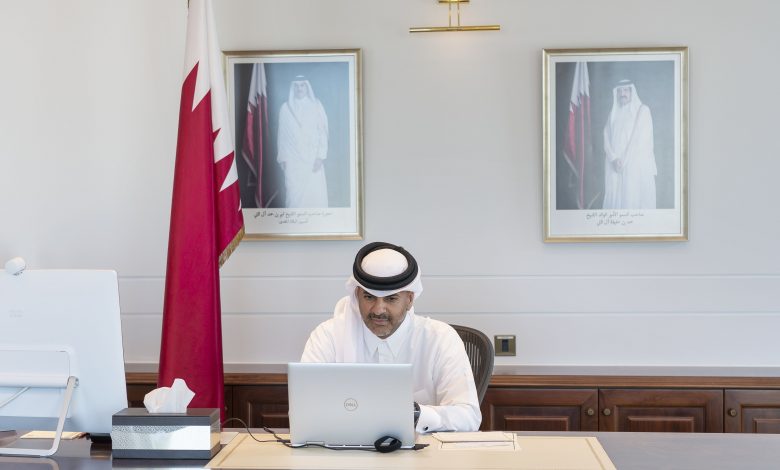 مجلس الوزراء يلغي قرار إغلاق المحال والأنشطة التجارية في عطلة نهاية الأسبوع
QNA – Doha:
HE Prime Minister and Minister of Interior Sheikh Khalid bin Khalifa bin Abdulaziz Al-Thani chaired on Wednesday the regular Cabinet meeting, held using video conference technology.
Following the meeting, HE Minister of Justice and Acting Minister of State for Cabinet Affairs Dr. Issa bin Saad Al Jafali Al Nuaimi said the following:
At the beginning of the meeting, the Cabinet heard a presentation by HE the Minister of Public Health on the latest developments to contain the Coronavirus (COVID-19). The Cabinet affirmed continued implementation of the precautionary measures taken to combat this epidemic. As part of the plan to gradually lift the restrictions imposed as a result of the Coronavirus (COVID-19), the cabinet decided the following:
1 – End working with its decision of closing shops and all commercial activity on Friday and Saturday of every week.
2 – The decision goes into effect starting Thursday Jul. 9, 2020.
Afterwards, the Cabinet considered the topics on the agenda and took as follows:
First, approving a draft decision from the Minister of Administrative Development, Labor, and Social Affairs on determining the ratio of Qatari employees to non-Qatari employees in the private sector. The draft decision comes in implementation of the provision of the labor law no. 14 of 2004. The draft decision aims to raise the percentage of Qataris working at state-owned companies, or where the state is an investor to 60 percent. The decision also includes other authorities that are subject to the retirement and pensions law. The draft decision also aims to raise the percentage of Qataris in human resources to 80 percent in these authorities. The children of Qatari women are treated as Qataris when calculating the localisation ratio. The authorities in question are banned from appointing non-Qataris in jobs allocated by the Ministry of Administrative Development, Labor, and Social Affairs for localization.
Second, approving a draft law amending some provisions of decree law no. 11 of 2012 on government regulation of the buying and selling of chemical and petrochemical products that are produced in the State of Qatar.
Third, the cabinet reviewed a report of the State of Qatar's population in 2019, and the outcomes of a study by the permanent population committee and its remarks on the report. The cabinet then took the appropriate decisions regarding the matter.

الدوحة – قنا:
ترأس معالي الشيخ خالد بن خليفة بن عبدالعزيز آل ثاني، رئيس مجلس الوزراء ووزير الداخلية، الاجتماع العادي الذي عقده المجلس ظهر اليوم عبر تقنية الاتصال المرئي.
وعقب الاجتماع، أدلى سعادة الدكتور عيسى بن سعد الجفالي النعيمي، وزير العدل والقائم بأعمال وزير الدولة لشؤون مجلس الوزراء بما يلي:
في بداية الاجتماع، استمع مجلس الوزراء إلى الشرح الذي قدمه سعادة وزير الصحة العامة حول آخر المستجدات والتطورات للحد من انتشار فيروس كورونا (كوفيد – 19)، وأكد المجلس على استمرار العمل بما تم اتخاذه من إجراءات وتدابير احترازية في سبيل مكافحة هذا الوباء، وفي إطار خطة الرفع التدريجي للقيود المفروضة جراء فيروس كورونا (كوفيد – 19)، قرر ما يلي :
1 – إلغاء قراره الصادر بشأن إغلاق المحال وإيقاف جميع الأنشطة التجارية يومي الجمعة والسبت من كل أسبوع.
2 – يعمل بهذا القرار اعتبارا من يوم الخميس الموافق 9 / 7 / 2020.
وبعد ذلك نظر المجلس في الموضوعات المدرجة على جدول الأعمال على النحو التالي:
أولا – الموافقة على مشروع قرار وزير التنمية الإدارية والعمل والشؤون الاجتماعية بشأن تحديد نسبة القطريين إلى غير القطريين العاملين في القطاع الخاص.
ويأتي مشروع هذا القرار تنفيذا لأحكام قانون العمل الصادر بالقانون رقم (14) لسنة 2004.
ويهدف مشروع القرار إلى رفع نسبة القطريين إلى (60%) من العاملين في الشركات المملوكة للدولة أو التي تساهم فيها، والجهات الأخرى الخاضعة لقانون التقاعد والمعاشات.
كما يهدف مشروع القرار إلى رفع نسبة القطريين بإدارات الموارد البشرية إلى (80 %) بتلك الجهات.
ويعامل أبناء القطريات معاملة القطريين في حساب نسبة التوطين.
ويحظر على الجهات المشار إليها، تعيين الموظفين غير القطريين في الوظائف المشمولة بالتوطين التي تحددها وزارة التنمية الإدارية والعمل والشؤون الاجتماعية.
ثانيا – الموافقة على مشروع قانون بتعديل بعض أحكام المرسوم بقانون رقم (11) لسنة 2012 بشأن التنظيم الحكومي لبيع وشراء المنتجات الكيماوية والبتروكيماوية التي تنتج في دولة قطر.
ثالثا – استعرض مجلس الوزراء تقريرا عن حالة سكان دولة قطر للعام 2019 ونتائج دراسة اللجنة الدائمة للسكان لمرئيات وملاحظات الجهات المعنية حول التقرير، واتخذ بشأنه القرار المناسب.