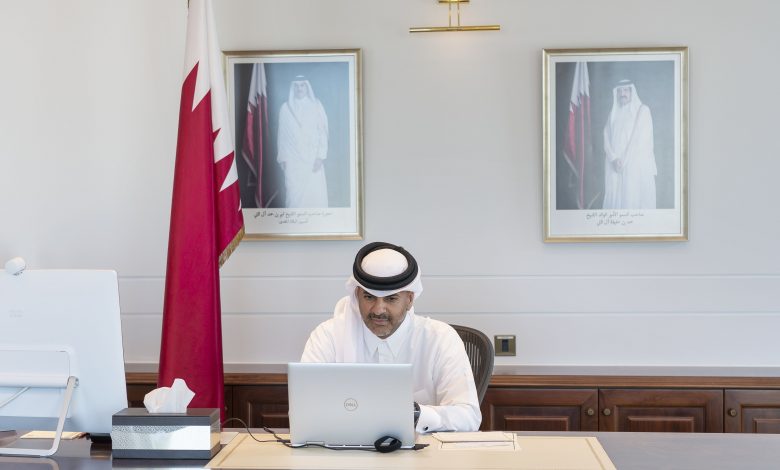 👮‍♂️ Government
Cabinet amends the decisions issued regarding working hours of the private sector, exercising, and the number of car passengers
مجلس الوزراء يعدل القرارت الصادرة بخصوص ساعات عمل القطاع الخاص وممارسة الرياضة وعدد ركاب السيارة
The Peninsula Online – Doha:
The Prime Minister and Minister of Interior H E Sheikh Khalid bin Khalifa bin Abdulaziz Al Thani chaired the Cabinet meeting today through video conferencing.
The cabinet has decided to allow four people inside a vehicle from Thursday, June 4 and families are exempted. The permitted working hours for private sector is also changed from 7am until 8pm.
Cabinet decided the following at the meeting:
First: Amendment of its decision issued regarding working hours for workers in the private sector, who are at their workplace to be between 7am until 8pm.
Second – Amendment of its decision regarding exercising and sports; it can be practiced without the requirement that they be close to their area of residence and also not required to wear masks. Exercise and sports have to be practiced avoiding gatherings and taking necessary precautions like leaving safe distance of not less than three meters.
Third – Amendment of its decision regarding number of people (two) allowed inside a vehicle. The amended decision is that no more than four people to be in a vehicle including the driver and families are exempted from this decision.
Fourth – The deciding to reduce the number of people transported by buses to half the capacity of the bus taking precautionary measures will continue.
Fifth – This decision will be enforced from Thursday June 4, 2020 until further notice.
source: thepeninsulaqatar

الدوحة – قنا:
ترأس معالي الشيخ خالد بن خليفة بن عبدالعزيز آل ثاني، رئيس مجلس الوزراء ووزير الداخلية الاجتماع العادي الذي عقده المجلس ظهر اليوم عبر تقنية الاتصال المرئي.
وعقب الاجتماع، أدلى سعادة الدكتور عيسى بن سعد الجفالي النعيمي، وزير العدل والقائم بأعمال وزير الدولة لشؤون مجلس الوزراء بما يلي:
في بداية الاجتماع، استمع مجلس الوزراء إلى الشرح الذي قدمه سعادة وزير الصحة العامة حول آخر المستجدات والتطورات للحد من انتشار فيروس كورونا (كوفيد – 19)، وأكد المجلس على استمرار العمل بما تم اتخاذه من إجراءات وتدابير احترازية في سبيل مكافحة هذا الوباء، وقرر ما يلي :
أولا – تعديل قراره الصادر بشأن تحديد ساعات العمل للعاملين في القطاع الخاص المتواجدين بمقر عملهم لتكون ما بين الساعة السابعة صباحا حتى الثامنة مساء.
ثانيا – تعديل قراره الصادر بشأن ممارسة الرياضة، لتتم ممارستها دون اشتراط أن تكون في المناطق القريبة لمنطقة السكن، ودون اشتراط ارتداء الكمامات، مع مراعاة تجنب التجمعات أثناء ممارسة الرياضة واتخاذ الإجراءات الاحترازية اللازمة، من ترك المسافة الآمنة التي لا تقل عن ثلاثة أمتار.
ثالثا – تعديل قراره الصادر بشأن إلزام جميع المواطنين والمقيمين عند الخروج والانتقال بعدم تواجد أكثر من شخصين في المركبة، ليكون الإلزام بعدم تواجد أكثر من أربعة أشخاص في المركبة بما فيهم سائق المركبة، ويستثنى من ذلك العائلات عند الخروج والانتقال بالمركبات.
رابعا – استمرار العمل بما تقرر بشأن خفض عدد الأشخاص الذين يتم نقلهم بواسطة الحافلات إلى نصف السعة الاستيعابية للحافلة، مع اتخاذ الإجراءات والتدابير الاحترازية.
خامسا – يعمل بهذا القرار اعتبارا من يوم الخميس الموافق 4 / 6 / 2020 وحتى إشعار آخر.