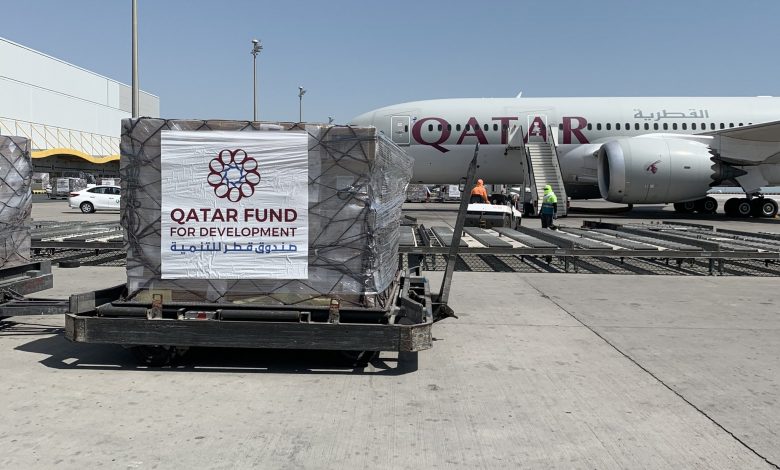 قطر ترسل مساعدات طبية عاجلة إلى 3 دول لدعم جهود مكافحة كوفيد-١٩
QNA – Doha:
The State of Qatar represented by Qatar Fund for Development (QFFD) sent today three urgent medical aid shipments to Congo, Albania and Angola to support their efforts in containing the outbreak of the Coronavirus (COVID-19) pandemic.
In a statement, QFFD said that these 25-tonne shipments, which Qatar Airways delivered, included medical equipment and supplies such as masks and personal protective equipment for medical staff.
Director General of the QFFD Khalifa bin Jassim Al Kuwari said: "This medical assistance reflects the great efforts made by the State of Qatar to combat the spread of this pandemic globally, which comes as a matter of joint global responsibility to try to contain the spread of this pandemic."
It is worth noting that QFFD provided urgent medical aids to several brotherly and friendly countries including Iran, Italy, Lebanon, Tunisia, Algeria, Nepal and Rwanda, total weight reached to more than 85 tons.

الدوحة – قنا:
أرسلت دولة قطر ممثلة بصندوق قطر للتنمية اليوم،  ثلاث شحنات من المساعدات الطبية العاجلة، إلى كل من جمهورية الكونغو الديموقراطية، و جمهورية ألبانيا  وجمهورية أنغولا، وذلك في إطار دعم الجهود التي تبذلها الحكومات الصديقة في مواجهة واحتواء تفشي جائحة كورونا (كوفيد-19).
   وأوضح صندوق قطر للتنمية ، في بيان له، أن الوزن الاجمالي لتلك المساعدات للدول الثلاث بلغ 25 طناً، من المعدات والمستلزمات الطبية، كالكمامات ومعدات الوقاية الشخصية للكوادر الطبية، وقد قامت بنقلها الخطوط الجوية القطرية.
  وفي تصريح له بهذه المناسبة، أكد السيد خليفة بن جاسم الكواري مدير عام صندوق قطر للتنمية، Hن هذه المساعدات تعد انعكاسا للجهود الكبيرة التي تبذلها دولة قطر لمحاربة تفشي هذا الوباء عالمياً، حيث تأتي تلك المساعدات من باب المسؤولية العالمية المشتركة لمحاولة احتواء تفشي هذا الوباء.
    يذكر أن دولة قطر قدمت عبر صندوق قطر للتنمية مساعدات طبية عاجلة لعدة دول شقيقة وصديقة منها إيران وإيطاليا و لبنان و تونس و الجزائر والنيبال ورواندا، وقد بلغ اجمالي وزن تلك المساعدات أكثر من 85 طناً.