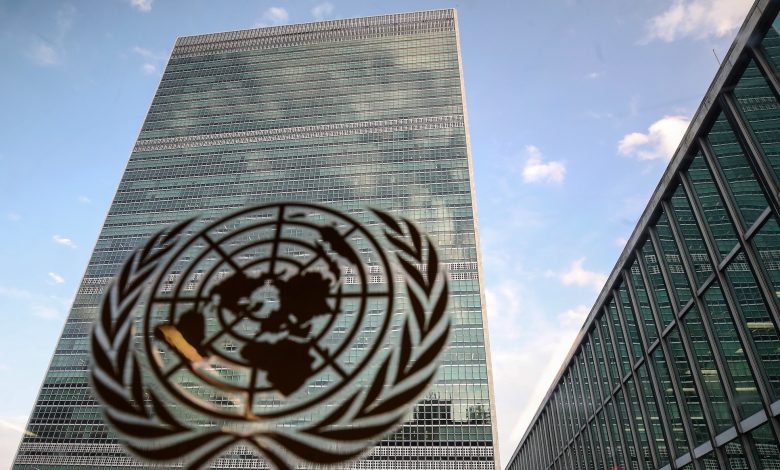 World
🦠Coronavirus
Qatar's fight against COVID-19 draws praise from UN representatives
ممثلون أمميون يثمّنون جهود قطر لمكافحة «كوفيد – 19» 
QNA
UN representatives have praised the efforts of the State of Qatar in combating COVID-19 pandemic, and for providing free medical examinations and high quality services for everybody living in Qatar without discrimination.
Assistant Foreign Minister and Official Spokesperson of the Supreme Committee for Crisis Management, H E Lolwah bint Rashid bin Mohammed Al Khater held a remote meeting with a number of United Nations representatives in the State of Qatar and the region in order to brief them about the efforts of the State of Qatar locally and internationally in combating the novel coronavirus (COVID-19) pandemic, and to answer their inquiries and questions in this regard. The meeting was attended by H E Adviser to the Minister of Foreign Affairs for International Development, representative of the Ministry of Foreign Affairs in the National Committee to Combat the Coronavirus, Khalid bin Rashid Al Mansouri.
From the United Nations, Director of Unesco's Office in the Arab States of the Gulf and Yemen, Dr. Anna Paolini; the Director of the International Labor Organization Office in Qatar, Houtan Homayounpour; the Director of the UN Human Rights Training and Documentation Centre in Qatar, Dr. Abdel Salam Sidahmed; Unicef Head of Office in Qatar, Anthony MacDonald; the Acting Head of Office at UNHCR, Ayat El Dewary, and WHO representative in the region, Dr. Rayana Bou-Haka participated in the remote meeting.
The UN representatives praised the efforts of the State of Qatar in combating this epidemic at the national level. 
They also commended the international efforts of the State of Qatar by sending medical shipments and aid to friendly countries, and the evacuation of people — including  UN personnel — who were stranded. 
عقدت سعادة السيدة لولوة بنت راشد الخاطر، مساعد وزير الخارجية، المتحدث الرسمي باسم اللجنة العليا لإدارة الأزمات، اجتماعاً عن بعد مع عدد من ممثلي الأمم المتحدة في دولة قطر والمنطقة، وذلك لإطلاعهم على جهود دولة قطر محلياً ودولياً في محاربة وباء كورونا المستجد «كوفيد – 19»، والإجابة عن استفساراتهم وأسئلتهم بهذا الخصوص.
شارك في الاجتماع سعادة السيد خالد بن راشد المنصوري، مستشار وزير الخارجية لشؤون التنمية الدولية، وممثل وزارة الخارجية في اللجنة الوطنية لمكافحة فيروس «كورونا».
كما شارك من الأمم المتحدة كل من الدكتورة انا باوليني مدير مكتب اليونيسكو في الخليج العربي واليمن، والسيد هوتان هوماينبور مدير مكتب منظمة العمل الدولية في قطر، والسيد عبدالسلام سيدأحمد مدير مركز التوثيق التابع لمكتب المفوض السامي لحقوق الإنسان في الأمم المتحدة في قطر، والسيد أنثوني ماكدونالد مدير مكتب اليونيسيف في قطر، والسيدة آيات الدواري مدير مكتب المفوضية السامية للاجئين بالإنابة، والدكتورة ريانا بوحقة ممثلة منظمة الصحة العالمية في المنطقة.
وأشاد ممثلو الأمم المتحدة بجهود دولة قطر في مكافحة هذا الوباء على المستوى الوطني، ولكل من يسكن على أرض دولة قطر دون تمييز عن طريق تقديم الفحوصات والخدمات الطبية المجانية عالية الجودة.
كما أثنوا على الجهود الدولية لدولة قطر من خلال إرسال الشحنات الطبية والمساعدات للدول الصديقة، وإجلاء الأشخاص العالقين في مناطق تفشي الوباء، بما في ذلك موظفو الأمم المتحدة.
وتعليقاً على اللقاء، أعربت السيدة لولوة بنت راشد الخاطر، عن سعادتها باللقاء الذي ضم ممثلين عن منظمة الصحة العالمية، واليونسكو، ومنظمة العمل الدولية.
وقالت في تغريدة لها على «تويتر»، أمس، «سعدت باللقاء عن بعد بممثلي مكاتب الأمم المتحدة في قطر والمنطقة ومنها منظمة الصحة العالمية واليونسكو ومنظمة العمل الدولية.. شاركتهم مستجدات مكافحة «كوفيد – 19» لحماية جميع سكان قطر وقد أثنوا على الجهود التي لم تفرق على أساس العرق أو الجنسية».