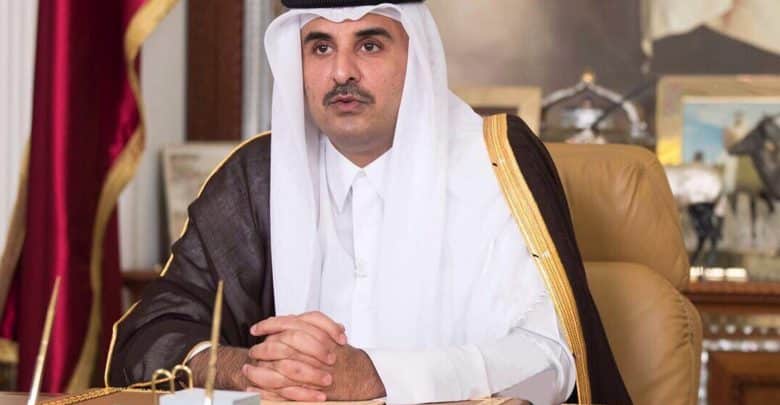 صاحب السمو وترودو يبحثان هاتفياً تخفيف التصعيد بالمنطقة
QNA
Amir H H Sheikh Tamim bin Hamad Al Thani held a telephone conversation with the Prime Minister of Canada, H E Justin Trudeau, yesterday evening.
During the phone call which H H the Amir received from H E the Canadian Prime Minister, H H the Amir expressed condolences on the Canadian victims who were killed in the Ukrainian plane crash south of the Iranian capital Tehran.
The two sides also reviewed the latest developments in the region and ways to ease the escalation in order to achieve regional and international security and stability. The phone call also touched on the bilateral relations and prospects of promoting and enhancing them.
تلقى حضرة صاحب السمو الشيخ تميم بن حمد آل ثاني أمير البلاد المفدى، اتصالاً هاتفياً أمس، من دولة السيد جاستين ترودو رئيس وزراء كندا.
وفي بداية الاتصال أعرب سمو الأمير عن تعازيه في الضحايا الكنديين الذين قضوا إثر تحطم طائرة الركاب الأوكرانية جنوب العاصمة الإيرانية طهران.
كما جرى خلال الاتصال استعراض آخر تطورات الأوضاع في المنطقة، وسبل تخفيف التصعيد بما يحقق الأمن والاستقرار الإقليمي والدولي.
وتناول الاتصال أيضاً العلاقات الثنائية بين البلدين وآفاق تعزيزها وتطويرها.
في سياق آخر تسلم صاحب السمو، بمكتبه بالديوان الأميري صباح أمس، أوراق اعتماد ثلاثة سفراء جدد لدى الدولة.
فقد تسلم سموه أوراق اعتماد كل من سعادة الدكتور ستيفين شيبروت شيمويكو سفير جمهورية أوغندا، وسعادة السيد لويز البرتو سفير جمهورية البرازيل الاتحادية، وسعادة السيد اليساندرو برونس سفير جمهورية إيطاليا.
وقد رحب سمو الأمير، بالسفراء الجدد متمنياً لهم التوفيق في مهامهم، وللعلاقات بين دولة قطر ودولهم مزيداً من التطور والنماء.
من جانبهم نقل أصحاب السعادة السفراء لسمو الأمير تحيات قادة دولهم وتمنياتهم للشعب القطري بدوام التقدم والازدهار.
وكانت قد جرت لأصحاب السعادة السفراء في وقت سابق مراسم استقبال رسمية في الديوان الأميري.