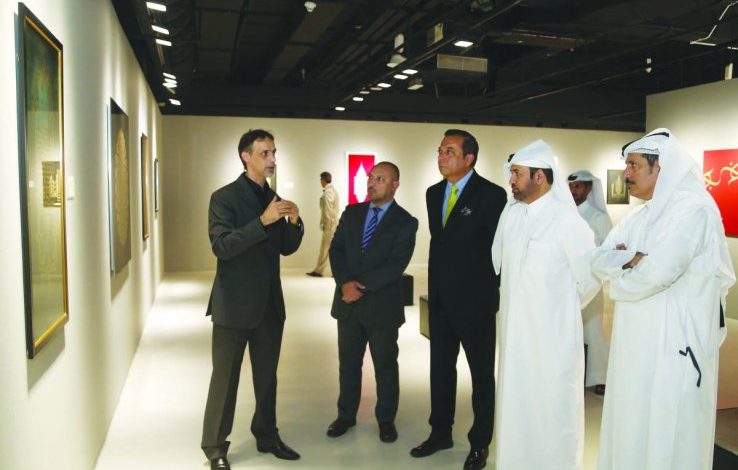 Art
Katara opens exhibition on Arabic calligraphy
كتارا تفتتح معرض الخط العربي
Doha: The "Preserved Pearls" exhibition, which opened on Monday at Katara Cultural Village, is a brilliant showcase of Arabic calligraphy as a treasure of Islamic and Arab culture.
The show features 18 fine works by calligrapher and artist Ammar Al Desouki through which he conveys sublime message using varied Kufic style adhering to high technical standards and bearing excellent aesthetic quality.
Arabic calligraphy is considered a creative art that has crowned the Arab and other Islamic civilizations. It is different from other types of calligraphy whose main feature is that it transcends its mission of conveying meaning to achieve an aesthetic objective.
Arabic calligraphy is a distinct art and Arabic letters have their own splendid magic as every letter has its secrets reserved in a protected place to which only the artistic and creative elites are guided. The blending of colours and lines in the Kufic style, which is the oldest calligraphic form of various Arabic scripts, contribute to the overall appeal of the paintings to every art enthusiast present at the exhibition launch.
Officially launching the exhibition, Dr. Khalid bin Ibrahim Al Sulaiti, General Manager of Katara, stressed Katara's constant endeavour to present a variety of exhibitions to its visitors and show them on various arts, most notably the art of Arabic calligraphy.
Speaking about the exhibition, Al Sulaiti praised the craftsmanship of the artist, saying the paintings reveal the artist's masterful integration of aesthetics and meaning.
He also underlined that the exhibition is an opportunity to show people the treasures of Islamic and Arab culture, where the development of calligraphy was linked to the golden ages of Islamic civilization. In addition, he underscored Katara's keenness to highlight Arabic calligraphy through its many cultural events.
For his part, Desouki said: "I was honored to work on verses from the Qur'an and a number of quotations and adopted a variety of lines of Kufic calligraphy, reflecting the long march of development known in Arabic calligraphy, which is the creative art that crowned both Arab and Islamic civilizations." The exhibition is open for public viewing until November 17 at Katara Building 22.
By Raynald C Rivera | The Peninsula
الدوحة – قنا
افتتح في المؤسسة العامة للحي الثقافي /كتارا/ ،اليوم، معرض اللؤلؤ المكنون للخطاط والفنان التشكيلي عمار الدسوقي، وذلك بحضور عدد من السفراء المعتمدين لدى الدولة والمهتمين والفنانين.
ويضم المعرض 18 لوحة قدّم من خلالها الفنان أعماله في الخط العربي معتمدا على الخطوط الكوفية المنوعة في نقل معاني سامية بمعايير فنية وجمالية دقيقة.
وبهذه المناسبة، أوضح الدكتور خالد بن إبراهيم السليطي المدير العام للمؤسسة العامة للحي الثقافي /كتارا/، سعي كتارا الدائم الى تقديم معارض متنوعة الى زوارها واطلاعهم على فنون متعددة ومن ابرزها فن الخط العربي، مشيدا بالمعرض ومثنيا على براعة الفنان قائلا: "لقد جمع الخطاط عمار الدسوقي بين الناحية الجمالية والمعنى فجاءت لوحاته جميلة متكاملة".
وأكد أنّ كتارا مهتمة من خلال العديد من الفعاليات الثقافية بإبراز جمالية الخط العربي وعراقته.. مشيرا إلى أن المعرض يشكل فرصة ليطلع الناس على كنوز الثقافة الإسلامية والعربية، حيث ارتبط تطور الخط العربي بالعصور الذهبية للحضارة الإسلامية.
من جانبه، قال الفنان عمار الدسوقي:" لقد تشرفت بالعمل على آيات من القرآن الكريم وعدد من الاقتباسات واعتمدت خطوطا منوعة من الخط الكوفي بما يعكس مسيرة طويلة من التطور التي عرفها الخط العربي الذي يعتبر الفن الإبداعي الذي توج كلا من الحضارتين العربية والإسلامية، وهو مختلف عن الخطوط الأخرى، ويمتاز عنها في تجاوزه لمهمته الأولى وهي نقل المعنى إلى مهمة جمالية أصبحت غاية بذاتها، وهكذا أصبح الخط العربي فنا بديعا مستقلا".
تجدر الإشارة الى أن المعرض يتواصل الى 17 نوفمبر الجاري في مبنى 22 في الحي الثقافي كتارا.