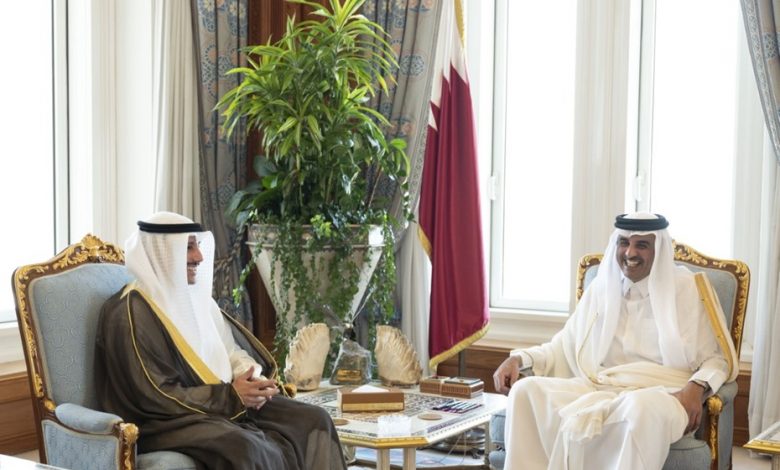 سمو الأمير يتلقى رسالة شفوية من أمير الكويت
QNA
Amir H H Sheikh Tamim bin Hamad Al Thani received a verbal message from the Amir of the fraternal State of Kuwait, H H Sheikh Sabah Al Ahmad Al Jaber Al Sabah, pertaining to bilateral brotherly relations, in addition to regional and international developments.
The Speaker of the Kuwaiti National Assembly, Marzouq bin Ali Al Ghanim, conveyed the message during a meeting with H H the Amir wishing him every success and Qatari people further progress and prosperity at the Amiri Diwan, yesterday. H H the Amir entrusted the Speaker to convey his greetings to H H the Amir of Kuwait, wishing him good health and wellness and the brotherly Kuwaiti people more progress and prosperity.
تلقى حضرة صاحب السمو الشيخ تميم بن حمد آل ثاني أمير البلاد المفدى، رسالة شفوية من أخيه صاحب السمو الشيخ صباح الأحمد الجابر الصباح أمير دولة الكويت الشقيقة، تتعلق بالعلاقات الأخوية الثنائية بين البلدين وسبل تعزيزها، إضافة إلى أبرز المستجدات الإقليمية والدولية .
قام بنقل الرسالة معالي السيد مرزوق بن علي الغانم رئيس مجلس الأمة بدولة الكويت، خلال استقبال سمو الأمير المفدى له، في مكتبه بالديوان الأميري صباح اليوم.
وفي بداية المقابلة، نقل رئيس مجلس الأمة الكويتي، تحيات صاحب السمو أمير دولة الكويت، إلى أخيه سمو أمير البلاد المفدى، وتمنياته لسموه بدوام التوفيق والسداد وللشعب القطري التقدم والازدهار.
ومن جانبه، حمل سمو الأمير المفدى، معالي رئيس مجلس الأمة، تحياته لأخيه سمو الشيخ صباح الأحمد الجابر الصباح، وتمنياته له بموفور الصحة والعافية، وللشعب الكويتي الشقيق المزيد من التطور والرخاء.