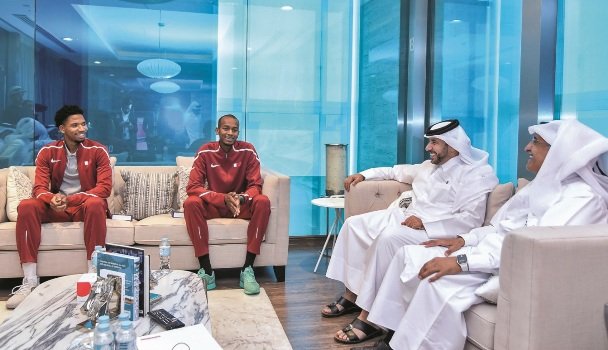 🏆 Sport
Ooredoo honours past and present Qatari Olympic athletes
Ooredoo تكرّم أبطال قطر الحاليين والسابقين لأم الألعاب
Ooredoo's Chairman, Sheikh Abdulla bin Mohammed bin Saud Al Thani, welcomed Dr. Thani bin Abdulrahman Al-Kuwari, the Second Vice-President of the Qatar Olympic Committee and President of Qatar Athletics Federation (QAF), along with Qatari athletes Mutaz Essa Barshim and Abderrahman Samba — who competed in the IAAF World Athletics Championships 2019 held last week in Doha — and retired athletics hero, Talal Mansour, to honour and thank them all for their amazing contribution.
Qatar's leading telecommunications operator, which acted as National Partner of the Championships, invited the athletes to Ooredoo's headquarters in West Bay in the aftermath of the event, which concluded on October 6.
In the presence of Sheikh Saud bin Nasser Al Thani, CEO, Ooredoo Group, and Waleed Al Sayed, CEO, Ooredoo Qatar, and a host of senior executives from Ooredoo, Sheikh Abdulla bin Mohammed bin Saud Al Thani met with Qatari athletes Mutaz Barshim — winner of gold in Men's High Jump and current world record holder — and Abderrahman Samba, who won bronze in Men's 400m hurdles.
He commended both athletes for their outstanding commitment and dedication, noting their continued participation in the Championships despite carrying injuries, and congratulated Barshim on his repeated success at Doha 2019 following his gold medal win in London 2017.
Sheikh Abdulla presented both athletes with a token of appreciation on behalf of Ooredoo. Sheikh Abdulla also thanked Talal Mansour, the Qatari sprinter who holds an Asian indoor record for the Men's sprint, for his contribution to the fan experience at Doha 2019. Mansour received the Chairman's recognition for his efforts behind the scenes to report on all the action, with Sheikh Abdulla noting his dedication to ensuring he provided exclusive and breaking news from behind the scenes to his many followers and sports fans in Qatar and the wider Gulf region. His enthusiasm motivated many other social media influencers to cover the event, Sheikh Abdulla said.
Sheikh Abdulla bin Mohammed bin Saud Al Thani, said: "It gives us great pleasure to be able to recognise the efforts and achievements of our national sports stars who made world records and represented our country in the best possible image. We thank them all for proudly flying the flag for Qatar and look forward to more sporting achievements in the near future. We're proud to have been National Partner for the IAAF World Athletics Championships, and delighted to have contributed to the success of this prestigious event."
استقبل رئيس مجلس إدارة Ooredoo، سعادة الشيخ عبدالله بن محمد بن سعود آل ثاني، كلاً من سعادة الدكتور ثاني عبدالرحمن الكواري، النائب الثاني لرئيس اللجنة الأولمبية القطرية ورئيس الاتحاد القطري لألعاب القوى، ونجوم ألعاب القوى القطرية معتز برشم، حامل ذهبية بطولة العالم لألعاب القوى الدوحة 2019، وعبدالرحمن صامبا، صاحب برونزية البطولة في سباق 400 متر حواجز، والبطل طلال منصور، بطل قطر وآسيا في ألعاب القوى سابقاً.
وبحضور الشيخ سعود بن ناصر آل ثاني، الرئيس التنفيذي لمجموعة Ooredoo، و وليد السيد، الرئيس التنفيذي لـ Ooredoo قطر وعدد من كبار المسؤولين في الشركة، وفي بداية حفل التكريم رحّب سعادة الشيخ عبدالله بن محمد بن سعود آل ثاني، رئيس مجلس إدارة مجموعة Ooredoo بأبطال قطر، وقدم لهم التهاني على الإنجازات الرائعة التي حققوها خلال البطولة وساهموا من خلالها في رفع اسم دولة قطر عالياً في واحدة من أهم وأكبر المحافل الرياضية العالمية.
وكان في مقدمة الحاضرين البطل الذهبي معتز برشم، الذي فاز بذهبية العالم في مسابقة الوثب العالي رغم عودته من الإصابة، والذي يعد كذلك أول لاعب يحقق ميداليتين ذهبيتين في بطولتي عالم متتاليتين بعد فوزه بذهبية العالم في بطولة لندن 2017.
كما كرّم سعادة الشيخ عبدالله البطل عبدالرحمن صامبا على تحقيقه برونزية العالم في سباق 400 متر حواجز بعد عودته من الإصابة أيضاً. ومنحت Ooredoo الأبطال مجموعة من الهدايا تقديراً لإنجازاتهم.
" طلال منصور والكواليس"
وكرّم سعادة الشيخ عبدالله بن محمد بن سعود آل ثاني، البطل القطري، طلال منصور، بطل قطر وآسيا في ألعاب القوى سابقاً وشكره على نقله لأحداث البطولة وما وراء الكواليس بشكل مغاير، حيث كان بمثابة قناة فضائية متنقلة، وقدم تغطية متميزة وحصرية لمنافسات البطولة استمتع بمشاهدتها عدد كبير من متابعيه عبر منصات التواصل الاجتماعي في قطر والمنطقة. وأشاد الشيخ عبدالله بمبادرة البطل طلال منصور وذكر أنها شجعت العديد من الشخصيات الأخرى المؤثرة عبر مواقع التواصل الاجتماعي على تغطية البطولة أيضاً.
خير تمثيل
وحول تكريم أبطال قطر، قال سعادة الشيخ عبدالله بن محمد بن سعود آل ثاني، رئيس مجلس إدارة مجموعة Ooredoo: " إنه لمن دواعي سرورنا واعتزازنا أن نكرّم نجومنا الأبطال على ما حققوه من إنجازات مشرفة خلال بطولة العالم لألعاب القوى و بطولات سابقة، فقد حققوا أرقامًا عالمية مميزة ومثلوا دولتنا الحبيبة قطر خير تمثيل ورفعوا اسمها عالياً في المحافل الرياضية العالمية. كما نشكرهم جميعًا على جهودهم وعزيمتهم على تحقيق النجاح، ونتطلع للمزيد من الإنجازات الرياضية لأبطالنا في المستقبل القريب. ونعتز أيضاً بمساهمتنا في نجاح بطولة العالم لألعاب القوى- الدوحة 2019، كوننا الشريك الوطني للبطولة".
مونديال ألعاب القوى
أقيمت بطولة العالم لألعاب القوى في الدوحة خلال الفترة من 27 سبتمبر الماضي إلى 6 أكتوبر الحالي في استاد خليفة الدولي في قطر، وهو أول مونديال لألعاب القوى يقام في منطقة الشرق الأوسط، و تنافس فيه الرياضيون والرياضيات من مختلف أنحاء العالم في 24 مسابقة. وأقيم أول سباق ليلي للماراثون في تاريخ هذه البطولة.