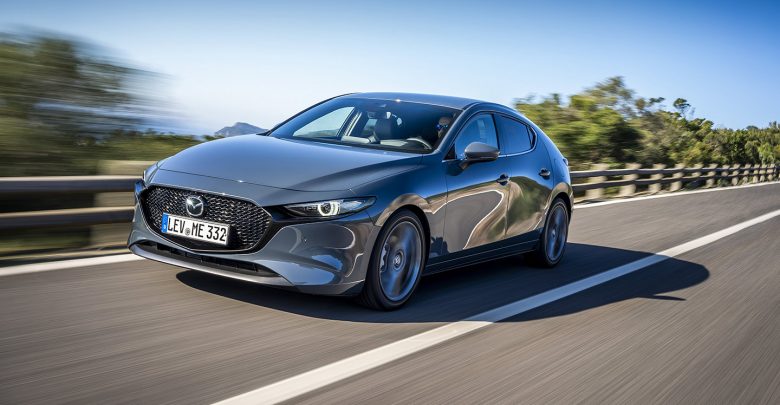 🚘 Cars
National Car Company launched All-new Mazda 3
شركة السيارات الوطنية تطرح سيارة مازدا 3 الجديدة
National Car Company (NCC), the sole agent for Mazda in Qatar for over four decades, launched the all-new Mazda 3 at a lively event held at Doha Festival City on October 10.
The new Mazda 3 models were unveiled by the chief guest, Japanese ambassador to Qatar Kazuo Sunaga, and Sheikh Ahmad bin Nasser al-Thani, president-director of NCC.
The newly launched sedan and hatchback models were on display at the mall during the weekend and received "an enthusiastic response from the mall visitors", the company said in a statement.
The new Mazda 3 hatchback offers an emotive design, while the sedan aims to present more elegant proportions. Both the hatchback and sedan models feature Mazda's Skyactiv-G 2.0-litre engine with 6-speed automatic transmission, while the Skyactiv-G 1.5-litre engine option is also available.
Speaking at the launch, Sheikh Ahmad said: "It is an important milestone for the unique Mazda brand and National Car Company, and marks 'the beginning of a new era' with these new-generation models, which blend exquisite design with exhilarating driving dynamics. I am sure these premium Mazda models will delight the discerning car lovers of Qatar and set higher expectations when it comes to design, performance, safety… and above all the pleasure of driving!"
The new Mazda3 was developed to "inspire and create an emotional bond with its customers in two very distinct ways". A completely new design approach was taken when styling the sedan and hatchback, each embodying strikingly different personalities. Mazda's further-evolved Kodo design is skilfully applied to the sedan's hood, cabin and trunk evoking an air of elegance and sense of sleekness. The body features a horizontal flow that accentuates the wide and low stance look, while presenting an atmosphere of serenity that would appeal to a sophisticated audience.
In contrast, the Mazda 3 hatchback is meant to be "sportier and more emotion-oriented, featuring aggressive body sides and C-pillars that do away with traditional body lines with constantly shifting reflections". The hatchback design is topped with a roofline that suggests speed and accentuates its powerful presence.
Mazda's design philosophy continues with an all-new interior and cockpit environment that helps drivers experience perfect seating and connectedness while driving the new Mazda 3.
The centre console has been redesigned with the shift knob, the new Commander Control and Armrest moved forward, while the cupholders are repositioned to the front – all configured to provide a more natural feeling for any driver. The new Mazda 3 is the first to introduce an all-new 8.8-inch MZD Connect infotainment screen to the brand and comes standard on all models.
Also standard are an all-new 3-way, 8-speaker Sound System, a new Steering Wheel design featuring Illuminated Controls and Switches, a 7-inch TFT reconfigurable gauge cluster display, LED headlights and taillights, Bluetooth phone and audio pairing, remote keyless entry, push-button start, electronic parking brake, new knee air bags, rear-view camera and two USB audio inputs, among a long list of other features.
The new Mazda 3 offers two new interior colour options: a new Greige interior colour that combines the cool tones of grey with the soft feel of beige to create a pleasing sensation of vitality, warmth and sophistication, and a new red leather interior colour exclusive to the Mazda 3 hatchback, which conveys a deep, vivid appearance that helps heighten the sensuality of the exterior design.
Assured control of sound in the cabin – whether noise or music – is another key element of driving pleasure, achieved amazingly well by Mazda Harmonic Acoustics. This far-reaching audio initiative was developed to create a quiet cabin that insulates you from unwanted and distracting outside noise, while still allowing for the subtler sounds from the road and engine that add to the driving experience. It is also evident in the design of the audio system that now delivers the same rich sound at both low and high volumes. Particular attention was paid to speaker placement to give deep, satisfying bass and clear, well-localised mid-range and high frequencies. The result is detailed, natural reproduction of music with astonishing depth and clarity at any volume.
The high-end models of the Mazda 3 sedan and hatchback come with 18-inch alloy wheels (special black-finish alloy wheels for the hatchback), leather seats and trims, leather-wrapped steering wheel and shift knob, power windows with one-touch down/up feature, automatic dual-zone climate control, rain-sensing windshield wipers and Mazda Advanced Keyless Entry.
i-Activsense safety features in the Mazda 3 include an all-new Driver Attention Alert that displays an alert along with a sound when it detects driver fatigue or decreased attentiveness, along with Smart City Brake Support, Smart Brake Support, Blind Spot Monitoring with Rear Cross-Traffic Alert, Lane Departure Warning with Lane-Keep Assist, High Beam Control and Mazda Radar Cruise Control with Stop & Go function.
The new Mazda3 will be available in the Standard, Core and Premium grades with package options meant to appeal to a wide range of customers. The Mazda 3 Standard and Core packages are equipped with a high-quality 8-speaker audio system with custom tuning to provide more powerful bass and higher audio quality as part of Mazda's newly developed Harmonic Acoustics system.
The new Mazda 3's premium grade package is highlighted by a Bose premium 12-speaker Audio System with Custom Tuning to provide more powerful bass and higher audio quality.
Other upgrades to the audio are an Aluminium Speaker Grille and Shark Fin Antenna. The driver is comforted with 8-way Power Driver's Seat, Power Lumbar Support and 2-Position Driver Memory System, while also including heated front seats. This package also features new Memory Position Door Mirrors.
The line-up is topped with the Mazda 3 Premium package and features windshield-projected Active Driving Display, Leather Seats, Power Moonroof, Signature Front and Rear LED lighting and Adaptive Front-lighting System. The Mazda 3 Premium sedan package includes paddle shifters while the Mazda 3 Premium hatchback offers 18-inch black finish alloy wheels and paddle shifters when equipped with Skyactiv-Drive six-speed automatic transmission.
The new Mazda 3 models come equipped with a Skyactiv-G 2.0-litre engine that is rated to deliver a maximum power output of 152.8Ps at 6,000Rpm and 200Nm of torque at 4,000Rpm. They also come with G-Vectoring Control Plus vehicle dynamic enhancements that is standard on all new Mazda 3 models, various improvements such as redesigned seats, a retuned body structure and an all-new suspension absorb road vibrations to help provide a smoother and more enjoyable driving experience.
The new Mazda 3 hatchback and sedan models are on display and for sale at the Mazda showroom located in Al Nasr, Doha.
For more information, one can visit Mazda showroom, call 44435965/44417859 or log on to www.mazda-qatar.com
طرحت شركة السيارات الوطنية، الوكيل الحصري لسيارات "مازدا" في دولة قطر منذ ما يربو على أربعة عقود، سيارة "مازدا 3" الجديدة في فاعلية رائعة في "الدوحة فستيفال سيتي"، في يوم الخميس الموافق العاشر من أكتوبر من عام 2019، بحضور ممثلين عن وسائل الإعلام المختلفة، وضيوف تم توجيه الدعوة إليهم.
وكشف سعادة الشيخ أحمد بن ناصر آل ثاني، الرئيس التنفيذى لشركة السيارات الوطنية يرافقه سعادة السفير السيد كازو سوناجا السفير الياباني لدى قطر، النقاب عن الموديلات الجديدة.
وبالفعل عُرضت موديلات السيارات السيدان والهاتشباك التي طُرحت مؤخرا في الوقت الحالي في المجمع التجاري خلال عطلة نهاية الأسبوع، وتفاعل معها زوار المول التجاري بصورة إيجابية.
وتتيح سيارة "مازدا 3" الجديدة الهاتشباك تصميما يترك لدى مستخدمه تأثيرا عاطفيا، فيما يهدف الموديل السيدان من نفس السيارة إلى توفير خصائص أكثر أناقة. ويزود كل من الموديلين- السيدان والهاتشباك- بمحرك يعمل بتقنية "سكاي أكتيف"، سعة 2.0 لتر، ونظام نقل أوتوماتيكي سداسي السرعات، كما تتيح السيارة أيضا محركا آخر يعمل بتقنية "سكاي أكتيف"، وسعته 1.5 لتر.
وقال سعادة الشيخ أحمد بن ناصر آل ثاني، الرئيس التنفيذى لشركة السيارات الوطنية، خلال إعلانه عن طرح السيارة الجديدة: " إنها (مازدا3) معلم مهم لعلامة مازدا التجارية المميزة، وشركة السيارات الوطنية تشهد (بداية عهد جديد) مولد جيل جديد من الموديلات التي تمزج بين روعة التصميم، وديناميكيات القيادة المبهجة. وأنا على يقين من أن موديلات مازدا الممتازة تلك ستدخل السرور في قلوب عشاق تلك السيارة في دولة قطر، وستلبي كل التوقعات العالية بشأن التصميم والأداء والسلامة، وفوق هذا وذاك متعة القيادة".
وتطورت سيارة "مازدا 3" الجديدة لتكون مصدرا للإلهام، وخلق علاقة عاطفية وطيدة مع عملائها. وقد طبقت الشركة نهجا جديدا بالكامل في تصميم الموديلين الهاتشياك أو السيدان، وكل منهما يجسد ملامح شخصية مختلفة تماما.
واستخدمت الشركة تصميم "كودو" المتطور بصورة أكبر على غطاء السيارة من النوع سيدان، وأيضا على مقصورة الركاب، وكذا الصندوق الخلفي لها ما يولد شعورا بالأناقة والمنظر الأخاذ. ويُظهر هيكل السيارة شكلا انسيابيا أفقيا يبرز مظهر الجانب العريض والمنخفض للسيارة، فيما توفر السيارة ذاتها أيضا الهدوء الذي يروق للعملاء المتميزين.
وفي المقابل تهدف سيارة "مازدا3" الجديدة من نوع سيدان إلى أن تكون أكثر رياضية، وأيضا أكثر انفعالية، حيث تتيح جوانب هيكل قوية جدا، ودعامات "سي" التي تلغي خطوط الجسم التقليدية، وتطبيق انعكاسات متغيرة باستمرار، يستمر روح التصميم في سيارات "مازدا" في الظهور في الجزء الداخلي من سياراتها الجديدة، وكذا بيئة "قمرة القيادة" التي تساعد السائقين على خوض تجربة ممتازة ملائمة، ونظام اتصال أثناء قيادة "مازدا 3" الجديدة.
وشهدت السيارة الجديدة أيضا إعادة تصميم مسند ذراع الكونسول الوسطي بمقبض التحويل، جنبا إلى جنب مع نظام تحكم جديد ومسند ذراع تم تحريكهما إلى الأمام، فيما تم تغيير حامل المشروبات المستخدم في السيارة إلى مقدمة السيارة. وهذا التصميم الجديد يهدف إلى إتاحة شعور طبيعي لأي سائق.. كما تتيح سيارة "مازدا3" الجديدة خياري لون داخليين جديدين. الأول هو اللون الداخلي الجديد "جريج" الذي يمزج بين درجات اللون الرمادية الفاتحة، مع درجة اللون "البيج" الفاتحة، ما يضفي إحساسا رائعا بالحيوية والدفء والتطور. وتتفرد "مازدا3" الجديدة الهاتشباك، باللون الداخلي الجديد الأحمر للجلد، كما أنها تتيح مظهرا حيويا يساعد بدوره على زيادة الإحساس بالتصميم الخارجي.