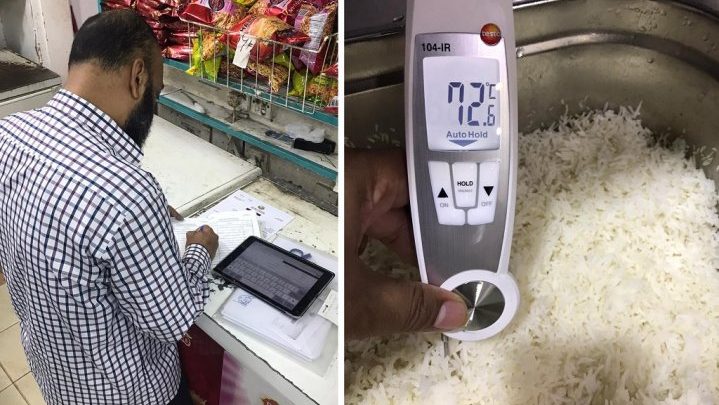 البلدية: ضبط 10 مخالفات في منشآت غذائية
Doha: The Ministry of Municipality and Environment (MME) has caught 10 violations at food outlets for storing or preparing foodstuffs in unsanitary conditions in different areas in Doha city. The action was taken during inspection campaign carried out by the Doha Municipality's Health Control Section.
The inspectors found a cafeteria and a supermarket in Madinat Khalifa South and Bin Mahmoud areas storing foodstuffs inside the workers' housing in unsanitary conditions and away from the eyes of the inspectors.
في حملة تفتيشية واحدة نفَّذها قسم الرقابة الصحية بإدارة الرقابة البلدية ببلدية الدوحة أمس (الأحد)، تم ضبط (10) مؤسسات غذائية مخالفة في مناطق مختلفة بمدينة الدوحة ، لقيامها بتخزين أو إعداد المواد الغذائية في ظروف غير صحية.
فقد ضبط مفتشو القسم كافتيريا وسوبر ماركت بمنطقتي مدينة خليفة الجنوبية وبن محمود ، يقومان بتخزين المواد الغذائية داخل سكن العمال في ظروف غير صحية وبعيداً عن أعين الرقابة، حيث تم على الفور إزالة تلك المخالفات وتحرير محاضر ضبط مخالفة وفقاً للقانون رقم (8) لسنة 1990 بشأن تنظيم مراقبة الأغذية الآدمية.
كما تم ضبط عدد (6) مطاعم و (1) مخبز و (1) كافتيريا في مناطق مختلفة بالدوحة لقيامها بإعداد وتحضير المواد الغذائية في ظروف غير صحية، وقد تم تحرير محاضر ضبط مخالفات وفقاً لقانون تنظيم مراقبة الأغذية الآدمية.
جدير بالذكر إن مفتشي الرقابة الصحية ببلدية الدوحة يستخدمون أحدث الأجهزة في الكشف على صلاحية وسلامة المواد الغذائية، ومن بينها ترمومتر قياس درجة الحرارة، جهاز قياس صلاحية الزيوت، وجهاز يظهر بقايا فضلات الفئران والحشرات. وقد تم توفير أجهزة التفتيش الحديثة بدءً من العام الجاري 2019، في إطار اهتمام البلدية بالرقابة الصحية على صلاحية وسلامة المواد الغذائية بمختلف أنواعها.
وأكدت بلدية الدوحة ممثلة بقسم الرقابة الصحية استمرار الحملات التفتيشية على جميع المنشآت الغذائية في مختلف مناطق العاصمة، للتأكد من تطبيق الاشتراطات الصحية وضبط أية مخالفات للقانون رقم (8) لسنة 1990 بشأن تنظيم مراقبة الأغذية الآدمية. وشدّدت على إنه سيتم اتخاذ كافة الإجراءات القانونية والإدارية اللازمة تجاه المنشآت الغذائية المخالفة، حفاظاً على صحة وسلامة جميع المستهلكين.