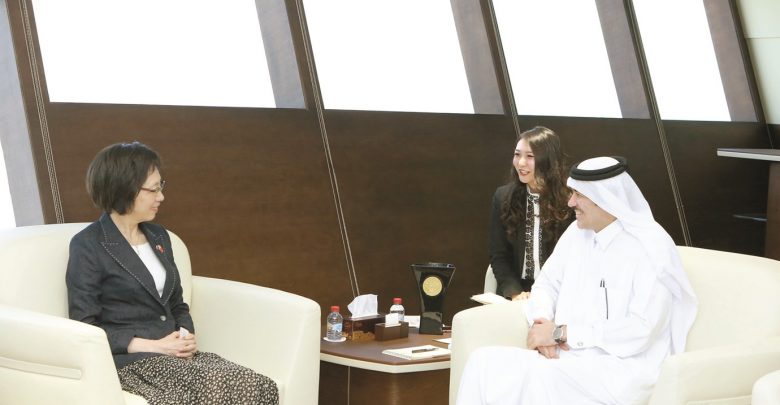 💰 Business
Qatar, China discuss ways to boost investment in free zones
تعزيز التعاون بين «المناطق الحرة» ونظيرتها في شنغهاي
Doha: The Minister of State and Chairman of Qatar Free Zones Authority (QFZA), H E Ahmad bin Mohammed Al Sayed yesterday hosted in his office an official delegation from China, led by Yin Yicui, Chairwoman of the Shanghai People's Congress. During the meeting they discussed enhancing trade and investment relations between the two countries in the fields of investment and free zones.
The delegation included senior representatives, including Zhou Jian, Chinese Ambassador to Qatar, Chen Jing, Secretary-General of the Standing Committee of Shanghai Municipal People's Congress (SCSMPC), and heads of various leading Chinese companies.
The meeting focused on opportunities for co-operation between Qatar and China, as well as additional areas of potential collaboration between Qatar Free Zones, the Shanghai Pilot Free Trade Zone and prominent Chinese investors, further supporting bilateral relations of both Qatari and Chinese investors.
استقبل سعادة السيد أحمد بن محمد السيد، وزير الدولة رئيس مجلس إدارة هيئة المناطق الحرة، في مكتبه، أمس، وفداً رسمياً برئاسة سعادة السيدة ين بيتسوي رئيسة اللجنة الدائمة لمجلس نواب الشعب الصيني لمدينة شنغهاي.
ضم الوفد عدداً من كبار المسؤولين الصينيين، من بينهم سعادة السيد تشو جيان، سفير جمهورية الصين الشعبية لدى الدولة، والسيد تشن جينغ، الأمين العام للجنة الدائمة للمجلس الوطني لنواب الشعب الصيني في شنغهاي، ومجموعة من رؤساء الشركات الكبرى في الصين.
بحث الاجتماع آفاق التعاون بين دولة قطر وجمهورية الصين الشعبية، إلى جانب سبل تعزيز العلاقات بين المناطق الحرة في قطر ونظيراتها في شنغهاي بشكل خاص، والصين بشكل عام، وتعزيز الاستثمار بين البلدين.