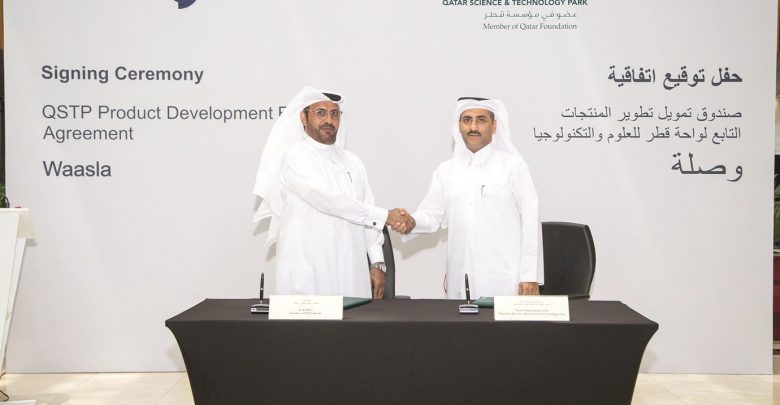 👮‍♂️ Government
Cloud-based SRM platform receives QSTP's product development fund
«واحة قطر» تموّل منصة سحابية لإدارة علاقات المورّدين
Qatar Science & Technology Park (QSTP), part of Qatar Foundation Research, Development, and Innovation, has awarded its Product Development Fund (PDF) to Waasla, a cloud-based supplier relationship management (SRM) platform designed to enhance supplier performance and relations.
QSTP's PDF assists and encourages small and medium enterprises (SMEs) and startups – in the priority areas of energy, environment, healthcare, and ICT – to develop innovative products or services that are relevant to the needs of the local market.
The funding agreement was signed by Yosouf Abdulrahman Saleh, Executive Director, QSTP, and Ali Al Marri, founder and CEO, Waasla, in a ceremony at QSTP, yesterday.
Waasla's platform employs Artificial Intelligence (AI) and machine learning to assist businesses in selecting and collaborating with suppliers.
The platform covers all aspects of SRM, from initial registration to ongoing performance assessment, offering businesses a complete view of their supplier relations.
Aysha Al Hamadi, Director of Product Development and Grant Management Fund, QSTP, said, "We are happy to ink another funding agreement, this time providing support for Waasla, a promising startup that aims to play an essential role in boosting business productivity in Qatar.
Through such agreements, we demonstrate our unwavering commitment to the development of the local innovation ecosystem and contribute to the growth of tech startups and innovative technologies."
Since its launch in 2016, QSTP's PDF has awarded subsidy grants to 18 SMEs, eight of which have successfully graduated from the program with innovative products that range from a smart edutainment app, 'Haya', by Al-Doha Link LLC, to an autonomous delivery vehicle, 'Droid', by Airlift QSTP LLC; and an 'Automated Customer Profiling Platform', by iHorizons WLL.
Ali Al Marri, founder and CEO, Waasla, said "We are excited to secure QSTP's financial support.
Equally important, we look forward to receiving the support of QSTP's team of mentors, which will be instrumental in the development and marketing of our product in Qatar and the region."
To be eligible for the PDF, at least 20 percent of the private sector SME should be owned by a Qatari individual, and the SME should have up to 249 employees.
Qatar-based SMEs that are successful in securing PDF support may be awarded funds of up to 50 percent of the cost of the product or service proposal.
Currently, five new projects are under evaluation by QSTP's team of industry managers, and QF's research, development, and innovation experts.
منحت واحة قطر للعلوم والتكنولوجيا -عضو قطاع البحوث والتطوير والابتكار بمؤسسة قطر- منحة صندوق تمويل تطوير المنتجات إلى «وصلة»، وهي منصة سحابية لإدارة علاقات الموردين، وتهدف إلى تعزيز أداء المورد والعلاقات معه. ويُساعد الصندوق المذكور الشركات الصغيرة والمتوسطة -خاصة العاملة منها في القطاعات ذات الأولوية، على غرار الطاقة والبيئة والرعاية الصحية وتكنولوجيا المعلومات والاتصالات- على تطوير منتجات وخدمات ابتكارية تلبي احتياجات السوق المحلي.
وقّع اتفاقية التمويل: يوسف عبدالرحمن صالح المدير التنفيذي لـ «واحة قطر» للعلوم والتكنولوجيا، وعلي المري الرئيس التنفيذي لـ «وصلة»، في حفل أُقيم أمس في واحة قطر للعلوم والتكنولوجيا.
وتستخدم منصة «وصلة» الذكاء الاصطناعي والتعلّم الآلي من أجل مساعدة الشركات على اختيار الموردين المناسبين والتعاون معهم، وتغطي المنصة كل مراحل إدارة علاقات الموردين، بدءاً بالتسجيل الأولي وصولاً إلى تقييم وتتبع الأداء، ما يوفر للشركات نظرة شاملة على علاقاتها مع الموردين.
وقالت السيدة عائشة الحمادي -مدير إدارة صندوق المنح لتطوير المنتج بـ «واحة قطر» للعلوم والتكنولوجيا- : «نحن سعداء لتوقيع اتفاقية تمويل جديدة توفر الدعم لوصلة، وهي شركة ناشئة واعدة تهدف إلى لعب دور أساسي في تعزيز الإنتاجية في قطر، ونحن نبرهن، من خلال توقيع هذه الاتفاقيات، على التزامنا الراسخ بتطوير بيئة الابتكار المحلية، والمساهمة في نمو الشركات التكنولوجية الناشئة والتقنيات الابتكارية».
من جهته، قال علي المري: «نحن في غاية الحماس للحصول على الدعم المالي من واحة قطر للعلوم والتكنولوجيا، والأهم من ذلك، فإننا ننظر قدماً للحصول على دعم فريق الموجهين بواحة قطر للعلوم والتكنولوجيا، والذي سيكون في غاية الأهمية في تطوير وتسويق منتجنا في قطر والمنطقة».
وكان صندوق تمويل تطوير المنتجات بـ «واحة قطر» قد قدّم، منذ إطلاقه في عام 2016، المنح التمويلية الداعمة لـ 18 شركة صغيرة ومتوسطة، استطاعت 8 شركات منها بعد انتهاء البرنامج التمويلي إطلاق منتجات مبتكرة تتراوح ما بين تطبيق تعليمي وترفيهي ذكي، مثل تطبيق «هيا»، الذي طورته شركة «الدوحة لينك»، أو مركبة توصيل ذاتية التحكم مثل مركبة «درويد»، التي ابتكرتها شركة «إيرليفت»، أو منصة آلية لبيانات العملاء كالتي طورتها شركة «آي هورايزنز».