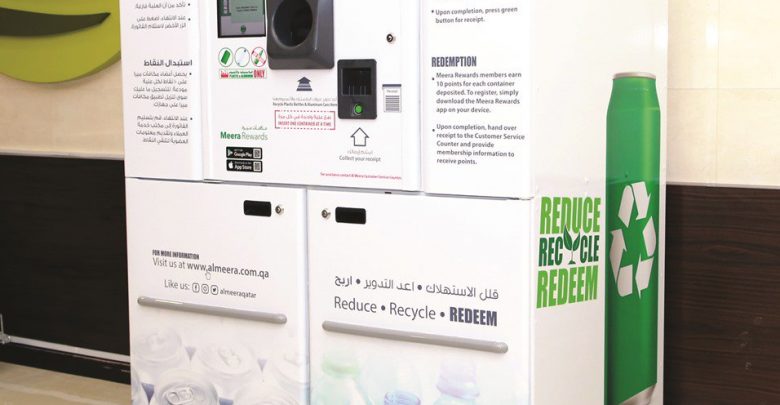 «الميرة» تطلق مبادرة لإعادة التدوير في فروعها بالدوحة
Doha: Al Meera has launched an innovative recycling initiative in some of their branches in Doha.
Across 8 branches, Al Meera has placed recycling machines for plastic and can products.
The consumer can drop a plastic bottle or a can into the machine and can earn reward points, which can be used later at the Al Meera outlets. To receive the rewards the user needs to register with the Meera Rewards program.
Commenting on the launch of this initiative, Yousef Ali Al Obaidan, CEO at Al Meera, said: "Through initiatives that encourage them to make small steps for change at scale, our consumers can immediately act and directly contribute on the ground to our ambition in instilling a culture that promotes and thrives on eco-friendly practices."
Many organizations and retail outlets have recently introduced various measure to reduce plastic use like issuing reusable bags or using paper carry bags to reduce single-use plastic products.
The recycling machines at Al Meera will encourage users to recycle plastic waster more responsibly.
في سياق جهودها المستمرة لتعزيز ثقافة المسؤولية والاستدامة البيئية، أطلقت شركة الميرة للمواد الاستهلاكية مبادرة وطنية لإعادة التدوير في الدوحة، حيث وزّعت في تجربة أولية بـ 8 فروع آلات إعادة التدوير المصمّمة خصيصاً والمخصّصة لمعالجة المنتجات البلاستيكية والعلب المعدنية، التي ستكون متاحة لاستخدام العملاء.
تأتي هذه المبادرة في إطار حملة بيئية طموحة وواسعة النطاق تنفّذها «الميرة» انسجاماً مع رؤية قطر الوطنية 2030 وركائزها الأربع: التنمية الاقتصادية، البشرية، الاجتماعية، والبيئية. ومن المقرر أن تمتد هذه الحملة لتشمل جميع المناطق في دولة قطر.
ريادة
وبهذه المناسبة، قال السيد يوسف علي العبيدان، الرئيس التنفيذي لشركة الميرة: «انطلاقاً من كوننا شركة وطنية رائدة تمتلك سلسلة كبيرة من الفروع تغطي الأحياء كافة وتصل إلى كل مستهلك في قطر، فإننا نجد أنفسنا أمام فرصة عظيمة تعادل حجم المسؤولية الملقاة على عاتقنا، المتمثلة في العمل من أجل تحقيق الاستدامة البيئية وأن نكون نموذجاً يُحتذى به في هذا المجال. إن هذا الجهد المبذول لا يتبع هيكلية معيّنة؛ فقد يبدأ من القمة إلى القاعدة أو العكس».
على الصعيد التشغيلي، تقوم «الميرة» بتطبيق أنظمة صارمة لإدارة المخلفات والبنية التحتية. وهذه المبادرة وغيرها من المبادرات المستقبلية، ستكون جزءاً من استثمارنا وجهودنا الرامية إلى تقديم رؤيتنا الخاصة حول الاستدامة البيئية لعملائنا الكرام في قطر، وتمكينهم من لعب دور فعّال في إنجازها.
من خلال المبادرات التي تشجع على اتخاذ بعض الخطوات الإيجابية في سبيل إحداث التغيير على نطاق واسع، يمكن للمستهلكين المساهمة مباشرة ومساعدتنا في تحقيق هدفنا المتمثل في ترسيخ ثقافة الممارسات الصديقة للبيئة في المجتمع وتعزيزها».
وبموجب هذه المبادرة وبهدف تشجيع العملاء، سيتمكن أعضاء برنامج «مكافآت ميرة» من كسب نقاط ولاء إضافية مقابل مساهماتهم في إعادة التدوير في فروع «الميرة».
قامت «الميرة» مؤخراً بتوقيع مذكرة تفاهم مع شركة النخبة لإعادة تدوير الورق، بهدف إطلاق شراكة استراتيجية من أجل الحد من مخاطر النفايات على البيئة والمجتمع.