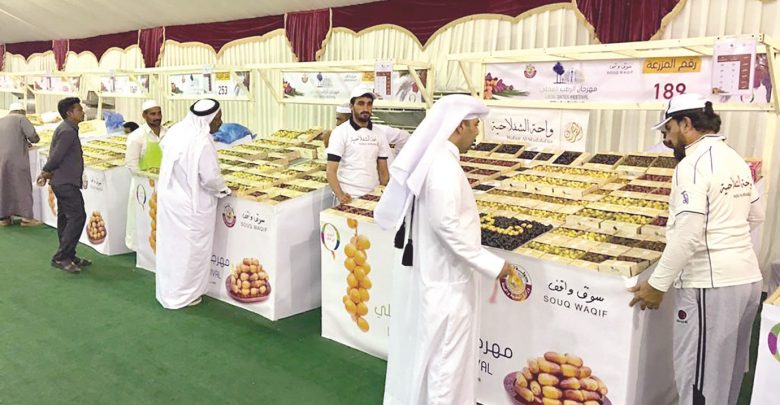 بيع 79 طناً بمهرجان الرطب
Sale at the ongoing fourth edition of the Local Dates Festival at Souq Waqif crossed 79,000kg (79 tonnes) on the sixth day on Sunday, as per the figures released by the Ministry of Municipality and Environment (MME).
The dates festival that started on July 23 witnessed a total of 24,200 visitors during six days. The festival organised by the MME and Souq Waqif management is a part of Qatar's efforts to promote locally grown products and help local farmers find the ideal market for dates.
The event is open for public from 4pm-10pm at Al Ahmad Square at Souq Waqif until August 3. As per the MME figures, the festival recorded an increase in the sale on the sixth day. On Sunday, 16,000kg dates were sold and visitor numbers reached 4,500. On Saturday, 15,532kg dates were sold while 5,800 people visited.
Merchants at the festival sold 12,795kg and 12,932kg dates on Friday and Thursday, respectively while the number of visitors reached 5,000 and 3,500. A total of 10,953kg and 10,752kg dates were sold on Wednesday and Tuesday, respectively, with visitor numbers at 2,900 and 2,500.
The organisers this year expect a sale of more than 250 tonnes of dates at the festival. Last year, the festival attracted about 54,000 visitors and sold 205 tonnes of fresh dates worth QR1.7mn.
More than one dozen local varieties are on sale from 85 farms across Qatar in addition to Hassad food company. The festival was attended by 73 farmers in 2018.
The varieties on sale at the festival include Al-Khalas, Al-Shishi, Al-Khenaizi, Al-Barhi, Al-Iraqi and Al-Silji, Al-Saqai, Nabt Saif, Al-Lulu and Al-Razizi.
بلغت حصيلة مبيعات اليوم السادس (السبت) بمهرجان الرطب المحلي الرابع 16 طناً من مختلف أصناف الرطب، وبذلك يصل إجمالي المبيعات 79 طناً خلال 6 أيام منذ انطلاق المهرجان بسوق واقف يوم الثلاثاء الماضي.
كما بلغ عدد زوار المهرجان في اليوم السادس 4500 زائر، ليبلغ الإجمالي منذ افتتاح المهرجان 24 ألفاً و200 زائر.
ويفتح المهرجان -الذي تنظمه وزارة البلدية والبيئة وسوق واقف- أبوابه للجمهور يومياً من الساعة الرابعة عصراً وحتى العاشرة مساءً بساحة الأحمد بسوق واقف، وذلك حتى يوم الثالث من أغسطس المقبل.
ويهدف المهرجان إلي دعم المنتجات المحلية من الرطب سعياً لتحقيق الاكتفاء الذاتي التي بلغت نسبته 84 % حالياً.
وكانت اللجنة المنظمة للمهرجان قد حددت مجموعة من الاشتراطات للرطب المعروض للبيع، منها أن تكون الثمار في مرحلة النضج المناسب، وخالية من العفن، ومن الحشرات الحية، بالإضافة إلى عدم وجود رائحة أو طعم غير طبيعي، في حين خضعت عينات من الرطب لفحوص مخبرية بالمختبرات التابعة لوزارة الصحة، للتأكد من خلوها من بقايا المبيدات الكيماوية.