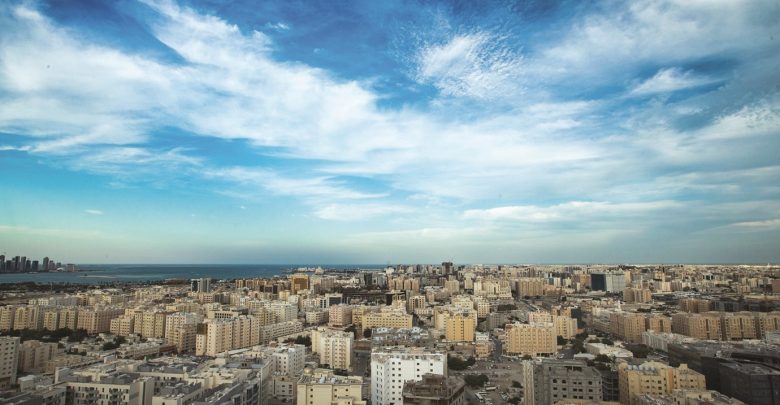 أقصى درجة حرارة متوقعة في الدوحة  45 درجة مئوية
The Meteorological Department warned of strong winds expected on most areas during the day on the coast and strong winds with high waves in the sea, expected to be until 6 pm in the evening hot day with light dust to dust on most areas of the coast .. In Sea view accompanied by mild dust weather.
Winds on the coast are northwesterly to north at a speed of between 12 and 22 knots, with grants up to 28 knots on some areas. In the sea, winds are northwesterly at 12 to 22 knots with occasional 25 knots.
The horizontal visibility ranges between 4 and 8 kilometers, sometimes less than 3 kilometers or less on some areas. Wave heights on the coast range from 2 feet to 4 feet and rise to 5 feet on some areas. The sea is between 4 and 7 feet and sometimes rises to 8 feet.
The maximum temperature expected in Doha is 45 ° C.

حذرت إدارة الأرصاد الجوية من رياح قوية متوقعة على معظم المناطق خلال النهار على الساحل ومن رياح قوية مع أمواج عالية داخل البحر، متوقعة أن يكون الطقس حتى الساعة السادسة من مساء اليوم حارا نهارا مع غبار خفيف إلى غبار مثار على معظم المناطق في الساحل.. وفي عرض البحر يصاحب الطقس غبار خفيف.
وتكون الرياح على الساحل شمالية غربية إلى شمالية بسرعة تتراوح بين 12 و 22 عقدة مع هبات تصل إلى 28 عقدة على بعض المناطق.. وفي البحر تكون الرياح شمالية غربية بسرعة تتراوح بين 12 و 22 عقدة مع هبات تصل إلى 25 عقدة أحيانا.
ويتراوح مدى الرؤية الأفقية بين 4 و 8 كيلومترات تقل إلى 3 كيلومترات أو أقل على بعض المناطق أحيانا.
ويتراوح ارتفاع الموج على الساحل بين قدمين و4 أقدام ويرتفع إلى 5 أقدام على بعض المناطق .. وداخل البحر بين 4 و 7 أقدام ويرتفع إلى 8 أقدام أحيانا.
أقصى درجة حرارة متوقعة في الدوحة 45 درجة مئوية.
وتكون مواعيد المد والجزر كالتالي:
الدوحة: أعلى مد في السادسة و 42 دقيقة صباحا .. أدنى جزر في الثانية و 20 دقيقة ظهرا.
الوكرة: أعلى مد في السابعة و 55 دقيقة صباحا…وأدنى جزر في الواحدة و 44 دقيقة ظهرا.
مسيعيد: أعلى مد في الثامنة و 51 دقيقة صباحا .. وأدنى جزر في الثانية وثلاث دقائق ظهرا.
الخور: أعلى مد في السادسة و34 دقيقة صباحا.. أدنى جزر في الثانية عشرة وثلاث دقائق ظهرا.
الرويس: أعلى مد في الثامنة و النصف صباحا .. وأدنى جزر في الثانية و 33 دقيقة ظهرا.
دخان: أعلى مد في الواحدة و 38 دقيقة ظهرا .. وأدنى جزر في السابعة و 26 دقيقة صباحا .
تغرب الشمس بحول الله تعالى، عند الساعة السادسة و 28 دقيقة.