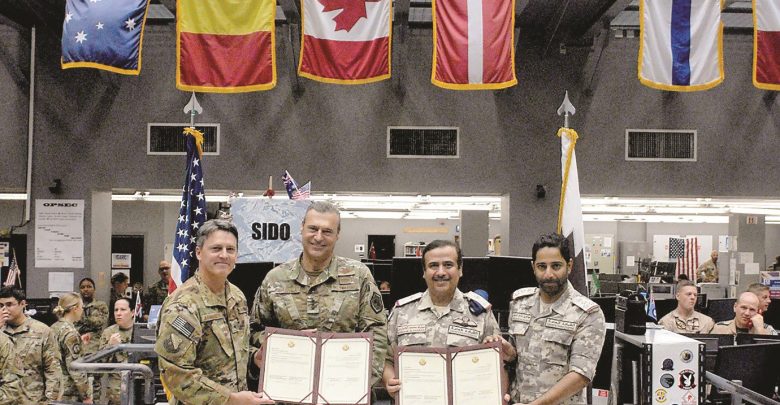 👮‍♂️ Government
QAF and Al Udeid Airbase celebrate signature of Nato Standard Operating Procedures
القوات المسلحة والقيادة المركزية للقوات الجوية الأميركية في العديد تحتفل بتوقيع اتفاقية إجراءات العمل الثابتة لـ «الناتو» في قطر
Doha: Qatar Armed Forces (QAF) and Al Udeid Airbase celebrate the signature of the Nato Standard Operating Procedures (SOP). H E Major. Gen. (Pilot) Mubarak bin Mohammed Alkamit Al Khayarin, Deputy Chief of Staff of the Qatar Armed Forces for Administration and Supply Affairs, and Lt. Gen. (Pilot) Joseph T Guastella, Commander, US Air Forces Central Command, Southwest Asia (AFCENT), attended the signature of Nato Standard Operating Procedures (SOP) agreement between the QAF and Al Udeid Airbase. The signature ceremony took place in the Combined Air Operations Center (CAOC).
The agreement was signed by Staff Brig. Abdulaziz Saleh Al Sulaiti, Head of the International Military Cooperation Authority from the Qatar's side and from the US side Brig. Gen. Jason R. Armagost the Commander, 379th Air Expeditionary Wing, Al Udeid Air Base.
احتفلت القوات المسلحة القطرية، والقيادة المركزية للقوات الجوية الأميركية في قاعدة العديد الجوية، بتوقيع اتفاقية إجراءات العمل الثابتة لقوات حلف شمال الأطلسي «الناتو» بدولة قطر.
وقد شهد سعادة اللواء الركن -طيار- مبارك بن محمد الكميت الخيارين نائب رئيس الأركان لشؤون الإدارة والإمداد، والفريق -طيار- جوزيف جاستيلوا قائد القيادة المركزية للقوات الجوية الأميركية «AFCENT»، مراسم توقيع اتفاقية إجراءات العمل الثابتة بين القوات المسلحة القطرية والقيادة المركزية للقوات الجوية الأميركية في قاعدة العديد الجوية، والتي جرت في مركز العمليات الجوية المشتركة «CAOC».
وقّع عن الجانب القطري العميد الركن عبدالعزيز صالح السليطي رئيس هيئة التعاون الدولي العسكري، وعن الجانب الأميركي العميد جايسن آرميقاس قائد الجناح 379 للحملات الجوية بقاعدة العديد الجوية.