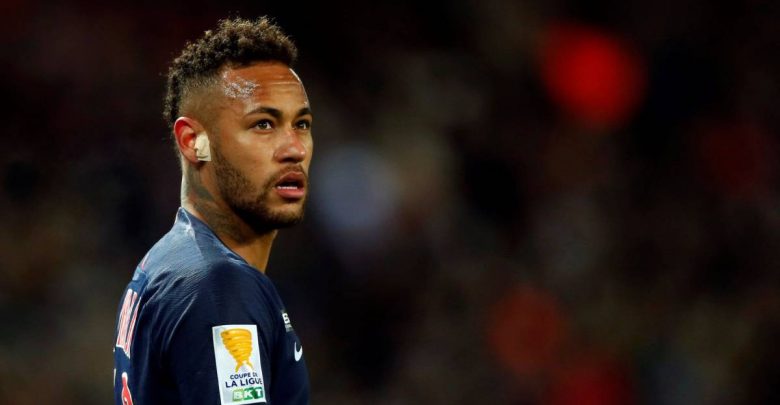 🥅LEAGUES
Neymar receives three-match ban for hitting fan
إيقاف نيمار 3 مباريات بسبب الاعتداء على مشجع
Neymar will miss Paris Saint-Germain's two final Ligue 1 matches of this season, as well as the Trophee des Champions on August 3, after receiving a three-game suspension for hitting a supporter after PSG's defeat to Rennes in the Coupe de France final.
The Brazilian forward could have received a ban of up to eight games for the incident, yet the disciplinary committee at the French Football Federation opted for three.
Neymar's suspension will not start until Monday so, in theory, he could play away at Angers this weekend before missing the games against Dijon and Reims. The final match he will miss will be the Trophee des Champions clash against Rennes on August 3, which pits the Ligue 1 winner against the winner of the Coupe de France.
Earlier this month, Neymar received a three-match ban in the Champions League for his comments on Instagram regarding the referee after PSG were eliminated by Manchester United in the round of 16.
source: marca.com

قررت لجنة الانضباط بالاتحاد الفرنسي لكرة القدم إيقاف البرازيلي نيمار دا سيلفا مهاجم باريس سان جيرمان، ثلاث مباريات بسبب الاعتداء على أحد مشجعي رين، عقب انتهاء المباراة بين الفريقين في نهائي كأس فرنسا.
وأشارت اللجنة إلى أن العقوبة تتضمن جزءاً معلقاً، حيث سترتفع إلى الإيقاف خمس مباريات حال تكرار هذا السلوك من اللاعب. وبهذا، تأكد غياب نيمار عن صفوف سان جيرمان في مباراة كأس السوبر الفرنسي المقررة بالصين في الثالث من أغسطس المقبل.
وأوضح الاتحاد الفرنسي للعبة أن تطبيق العقوبة سيبدأ من الاثنين المقبل الموافق 13 مايو الحالي، ما يعني أن نيمار يستطيع المشاركة مع فريقه في المباراة المقررة اليوم أمام أنجيه بالدوري الفرنسي، لتكون آخر مباراة له في الموسم الحالي، فيما يغيب اللاعب عن مباراتي الفريق أمام ديجون وريمس في المرحلتين الأخيرتين من المسابقة.
وكان غضب نيمار ثار في مواجهة هتافات جماهير رين التي حملت بعض التهكم والانتقادات له خلال صعوده وزملائه لتسلم ميداليات المركز الثاني، ما دفعه إلى توجيه لكمة لأحد المشجعين.