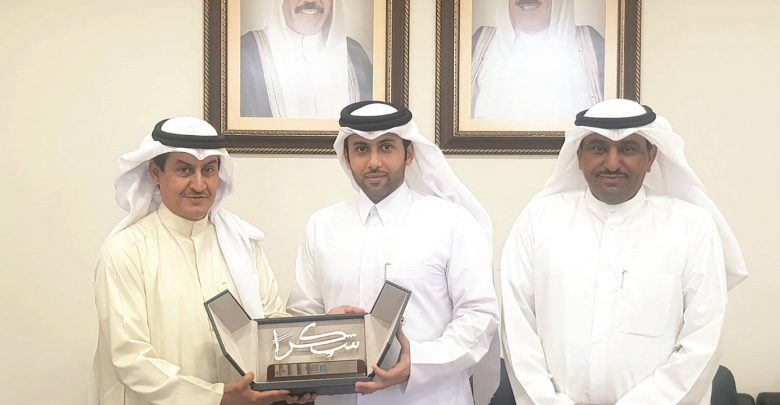 📚Education
HBKU delegation visits Kuwait University
«جامعة حمد» تستكشف فرص التعاون مع الكويت
Hamad Bin Khalifa University (HBKU) officials recently travelled to Kuwait City to meet representatives from Kuwait University and explore its facilities, graduate programmes, and future collaborations.
Faisal al-Mohannadi, senior student engagement supervisor, HBKU, met Dr Ali al-Namy, dean of student affairs, and Salman al-Anzi, assistant dean for student services, at the Deanship of Student Affairs at Kuwait University.
Dr al-Namy provided a comprehensive overview of the role, student affairs plays in ensuring the effective management of student unions and clubs.
The initiative was part of a wider Kuwait visit encompassing various departments and sports-related initiatives.
As part of the Kuwait University visit, the delegation visited the College of Engineering and Petroleum and met with Dr Khaled al-Hazza', associate dean for student affairs at the college.
The itinerary also included a tour of the College of Graduate Studies, represented by Dr Bader al-Bidawi, dean of the college.
Additional visits included meetings with the cultural, sports, and academic guidance departments.
HBKU regularly collaborates with local and international partners to promote knowledge exchange, explore ongoing partnerships, and showcase its innovative approach to delivering world-class graduate programmes.
The university's student affairs department is actively engaged with the internal community and external stakeholders at-large. It plays an active role in strengthening the cultural and social fabric within HBKU, while ensuring inclusivity and nurturing diversity within.
عقدت جامعة حمد بن خليفة، عضو مؤسسة قطر للتربية والعلوم وتنمية المجتمع، ممثلة بالسيد فيصل بن أحمد المهندي، كبير مشرفي المشاركة الطلابية في شؤون الطلبة، سلسلة من الاجتماعات رفيعة المستوى في دولة الكويت الشقيقة مع ممثلين من جامعة الكويت، وذلك بهدف التعرف على الجامعة، واستكشاف برامج الدراسات العليا التي تقدمها، وفرص التعاون والشراكة بين الجامعتين في المستقبل. والتقى المهندي بالدكتور علي بن سيف النامي عميد شؤون الطلاب بجامعة الكويت، والدكتور سلمان بن نشمي العنزي مساعد العميد للخدمات الطلابية بعمادة شؤون الطلاب.
وقدم الدكتور النامي عرضاً شاملاً عن الدور الذي تؤديه عمادة شؤون الطلاب بجامعة الكويت لضمان الإدارة الفعالة للاتحادات والأندية الطلابية.
وجاءت هذه المبادرة في إطار زيارة أوسع لدولة الكويت بهدف التعرف على مختلف إدارات الجامعة، التي من خلالها التقى المهندي مع الدكتور خالد بن أحمد الهزاع العميد المشارك لشؤون الطلاب في كلية الهندسة والبترول، حيث اشتمل برنامج الزيارة كذلك على القيام بجولة في كلية الدراسات العليا بجامعة الكويت، التي مثلها الدكتور بدر بن فهد البديوي، عميد الكلية.
كما عقد المهندي اجتماعات مع مسؤولي الأقسام الثقافية، والرياضية، وقسم التوجيه الأكاديمي بالجامعة. وتتعاون جامعة حمد بن خليفة باستمرار مع شركاء محليين ودوليين لتعزيز عملية تبادل المعرفة، واستكشاف الشراكات المستمرة، وعرض نهجها المبتكر في تقديم برامج للدراسات العليا عالمية الطراز.