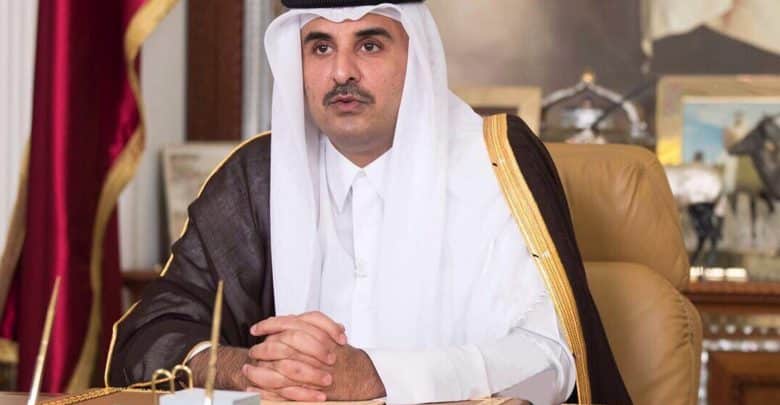 الرئيس اللبناني يشيد بدعم صاحب السمو لبلاده
QNA
Beirut: The President Michel Aoun of Lebanon has lauded the Lebanese-Qatari relations and the support extended by Amir H H Sheikh Tamim bin Hamad Al Thani to Lebanon, especially His Highness participation in the Arab Economic and Social Development Summit, held in Beirut last January. This came during the meeting of the Lebanese President at the Baabda Palace with the Minister of State H E Dr. Hamad bin Abdulaziz Al Kawari, who conveyed H H the Amir's greetings to the Lebanese President and condolences on the death of Patriarch Cardinal Mar Nasrallah Boutros Sfeir.
The Lebanese President also thanked H H the Amir, the Qatari government and people for the care the Lebanese community receive in Qatar and the facilities offered to them in their work and contribution. H E Dr Al Kawari said that his participation in the funeral of the late Patriarch is to indicate the strength of Lebanese-Qatari relations, which the State of Qatar is keen to develop in all fields.
أشاد فخامة الرئيس العماد ميشال عون، رئيس الجمهورية اللبنانية الشقيقة، بالعلاقات اللبنانية- القطرية، وبالدعم الذي قدمه حضرة صاحب السمو الشيخ تميم بن حمد آل ثاني أمير البلاد المفدى، للبنان ولا سيما مشاركة سموه شخصياً في أعمال القمة العربية التنموية الاقتصادية والاجتماعية التي عقدت في بيروت يناير الماضي. جاء ذلك خلال استقبال فخامة الرئيس اللبناني، في قصر بعبدا لسعادة الدكتور حمد بن عبدالعزيز الكواري وزير الدولة، حيث نقل تحيات سمو أمير البلاد المفدى وتعازيه إلى فخامة الرئيس اللبناني في وفاة البطريرك الكاردينال مار نصر الله بطرس صفير. كما وجه فخامة الرئيس اللبناني الشكر إلى سمو أمير البلاد المفدى وإلى الحكومة والشعب القطري على الرعاية التي يلقاها اللبنانيون في قطر، والتسهيلات التي تقدم إليهم في الأعمال التي يقومون بها، والمساهمة التي يقدمونها. وأشار سعادة الدكتور الكواري إلى أن مشاركته في تشييع البطريرك الراحل للدلالة على متانة العلاقات اللبنانية- القطرية التي تحرص دولة قطر على تطويرها وتنميتها في المجالات كافة.