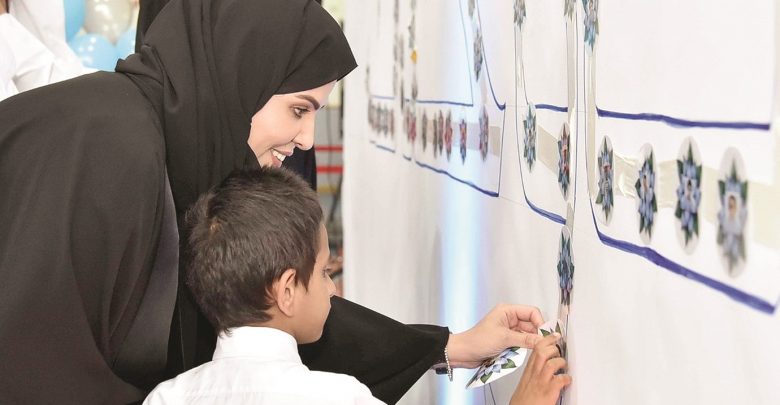 💉 Health
Qatar joins the world to observe Autism Awareness Day
قطر تنضم للعالم للاحتفال بيوم للتوعية بمرض التوحد
World Autism Awareness Day was first proposed by Her Highness Sheikha Moza bint Nasser, Chairperson of Qatar Foundation, to the United Nations in 2007, and the proposal was adopted without a vote by the UN General Assembly. The first World Autism Awareness Day was marked on April 2, 2008.
Qatar launched the National Autism Plan (2017-2021) in 2017 with a view to improving the lives of those with autism. Qatar's national health strategy 2018-2022 has identified seven priority population groups, including those with special needs.
The national plan lists 44 goals to be implemented by 2021. The goals focus on programmes to increase public awareness, facilitate early diagnosis and improve the quality of interventions and services, as well as continuity of care and meaningful development in education and social participation.
World Autism Day is one of only seven official health-specific UN Days. The day itself brings individual autism organisations together all around the world to aid in things like research, diagnoses, treatment, and overall acceptance for those affected by this developmental disorder.
نظم مركز الشفلح للأشخاص ذوي الإعاقة ومبادرة بست باديز قطر، فعالية للاحتفال باليوم العالمي للتوعية بالتوحد في مقر مركز الشفلح، بمشاركة 100 منتسب، وبدعم ورعاية من شركة أوريدو.
وتمت إضاءة مباني مركز الشفلح ومبادرة بست باديز قطر باللون الأزرق، احتفاءً باليوم العالمي للتوعية بالتوحد.
وتضمن الاحتفال عدداً من الأنشطة الرياضية والترفيهية التفاعلية، التي اشتملت على عرض فيديو لمنتسبي التوحد، ومباراة bubble ball، ولعبة تركيب البرج، ولعبة لست وحدك.
وأعقب ذلك توزيع هدايا على المنتسبين ومقدمة من شركة أوريدو، وهي عبارة عن ساعة Myki؛ التي تمتاز بتقنية فائقة لتحديد موقع الطفل مسبقاً، عبر 24 قمراً صناعياً وخيارات المكالمات والنصوص و»SOS».
وقالت السيدة لآلئ أبو ألفين، القائم بأعمال المدير التنفيذي لمركز الشفلح للأشخاص ذوي الإعاقة والمدير التنفيذي لمبادرة بست باديز: «نحرص على تبني ورعاية القضايا التي تساهم في دعم الأشخاص من ذوي اضطراب طيف التوحد، وتمكينهم من المشاركة الفعالة، ودمجهم في المجتمع، بما يحقق لهم فرصة لتحقيق الذات، ودعم قضيتهم وحقهم في الحياة».
وأشارت إلى أن احتفال هذا العام تحت شعار: «التقنيات المساعدة.. المشاركة الفعالة»، مؤكدة على حقوق الأشخاص من ذوي اضطراب طيف التوحد، والدور الفعال للتكنولوجيا المساعدة في تمكينهم وممارسة حقوقهم وحرياتهم، وتشجيع توافر هذه التكنولوجيا واستخدامها بتكلفة معقولة، وتيسير الوصول إليها، والاضطلاع بالبحث والتطوير في هذه التكنولوجيات الجديدة، والاستفادة من استخدام التقنيات المساعدة للأشخاص من ذوي اضطراب طيف التوحد كأداة في إزالة الحواجز التي تحول دون وجودهم الاجتماعي والاقتصادي الكامل، والمشاركة السياسية في المجتمع، وتعزيز المساواة والإنصاف والشمول.
وقالت منار خليفة المريخي، مديرة إدارة العلاقات العامة واتصالات الشركة في «أوريدو»: «نسعى إلى مشاركة جميع أفراد المجتمع في مختلف الفعاليات والمناسبات، وذلك للتأكيد على أهمية التواصل والتقارب بين مختلف فئات المجتمع».
وأوضحت أن مشاركة «أوريدو» جاءت للتوعية بهدف تثقيف الأفراد حول حالات طيف التوحد، وأهمية دمج هذه الفئة المهمة من المجتمع بشكل كامل، وحصولها على كل حقوقها دون استثناء.