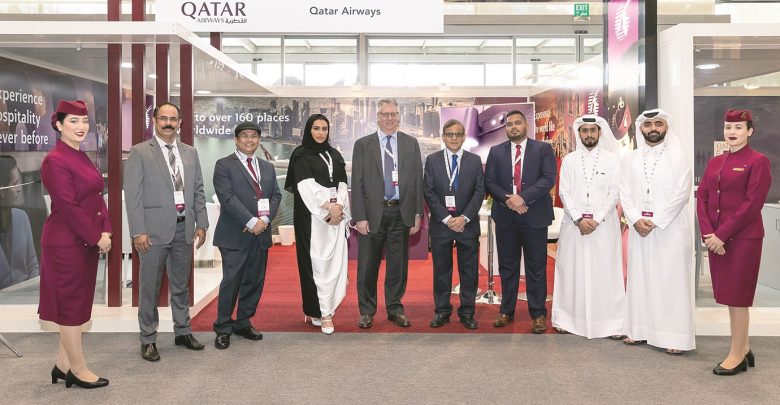 💰 Business
Qatar Airways participates in Moushtarayat 2019
الخطوط القطرية تشارك في «مشتريات 2019»
Doha: Qatar Airways participated in Moushtarayat 2019, the fourth annual Government Procurement and Contracting Conference and Exhibition, that took place in Doha till yesterday from March 31.
The three-day procurement and contracting exhibition was officially opened on March 31 by the Deputy Governor of Qatar's Central Bank and Qatar Development Bank Vice-Chairman, Sheikh Mohammed bin Hamad Al Thani.
Qatar Airways Group Chief Executive, Akbar Al Baker, said: "Qatar Airways is delighted to be present at this year's Moushtarayat Conference and Exhibition. At this important conference, representatives from the airline will discuss potential procurement opportunities for small and medium enterprises (SMEs). Qatar Airways is a firm believer that SMEs in Doha are vital to sustaining the growth of our economy, and we will continue to support their initiatives, as they are key to the development of a diversified economy in Qatar."
Moushtarayat aims to create opportunities for local suppliers and small and medium enterprises by providing access to a network of prominent buyers and suppliers for government, semi-government, and large private entities. This initiative is in line with Qatar's National Vision 2030 which aims for Qatar to become a country that is economically advanced and self-sustaining, with a robust, diversified local economy.
This year's conference included several interactive sessions that aim to educate attendees on the procedures involved in partaking in future tender and application processes successfully. Organised by Qatar Development Bank (QDB), this year's Moushtarayat conference and exhibition was held in collaboration with Qatar's Ministry of Finance, and in partnership with the Ministry of Commerce and Industry (MOCI), and Ashghal. Last year's Moushtarayat conference and exhibition was a great success, with 40 exhibitors and 2,000 job opportunities for SMEs created, with an estimated cumulative value worth approximately QR 6.5 billion.
A multiple award-winning airline, Qatar Airways was named 'World's Best Business Class' by the 2018 World Airline Awards, managed by international air transport rating organisation Skytrax. It was also named 'Best Business Class Seat', 'Best Airline in the Middle East', and 'World's Best First Class Airline Lounge'.
شاركت الخطوط الجوية القطرية في النسخة الرابعة من مؤتمر ومعرض المشتريات والتعاقدات الحكومية «مشتريات 2019»، الذي أقيم في مدينة الدوحة من 31 مارس حتى 2 أبريل 2019. وقال سعادة السيد أكبر الباكر، الرئيس التنفيذي لمجموعة الخطوط الجوية القطرية: «يسر الخطوط الجوية القطرية المشاركة في نسخة هذا العام من مؤتمر ومعرض قطر للمشتريات والتعاقدات الحكومية 2019. وشارك ممثلون من الناقلة القطرية في فعاليات المؤتمر لتسليط الضوء على فرص المشتريات المحتملة للشركات الصغيرة والمتوسطة. وتُؤمن الخطوط الجوية القطرية بشكل كبير بالشركات الصغيرة والمتوسطة في الدوحة، وبدورها في المحافظة على نمو الاقتصاد، وسوف نستمر في دعم مختلف المبادرات التي تطلقها هذه الشركات، والتي تعد أحد الركائز لاقتصاد متنوع في دولة قطر».
يهدف مؤتمر ومعرض المشتريات والتعاقدات الحكومية إلى إتاحة الفرصة أمام الشركات الصغيرة والمتوسطة المحلية لعرض خدماتها، والتفاعل والتنسيق مع شبكة من المشترين ومزودي الخدمات للقطاعين الحكومي وغير الحكومي، بالإضافة إلى الشركات الخاصة الكبيرة. وتأتي هذه المبادرة تلبية للجهود المبذولة لتحقيق رؤية قطر الوطنية 2030؛ التي تهدف إلى تعزيز دولة قطر كدولة متقدمة ومكتفية ذاتياً، مع اقتصاد متسارع ومتنوع.
واشتمل مؤتمر هذا العام على العديد من الجلسات التفاعلية التي تهدف إلى توسيع أفق معرفة الحضور بإجراءات الاشتراك في المناقصات المستقبلية وعملية تعبئة الطلبات بشكل ناجح.
ويحظى مؤتمر ومعرض المشتريات والتعاقدات الحكومية بتنظيم من بنك قطر للتنمية بالتنسيق مع وزارة المالية وبالشراكة مع وزارة التجارة والصناعة وهيئة الأشغال العامة «أشغال».
واتسمت نسخة العام الماضي من مؤتمر ومعرض المشتريات والتعاقدات الحكومية بالنجاح بعد مشاركة 40 عارضاً، وتوفير 2000 فرصة عمل للشركات الصغيرة والمتوسطة، بقيمة كلية تبلغ 6.5 مليار ريال.
وحازت الخطوط الجوية القطرية على جائزة أفضل درجة رجال أعمال في العالم ضمن جوائز سكاي تراكس العالمية 2018، كما حصدت الناقلة الوطنية لدولة قطر جائزة أفضل مقعد على درجة رجال الأعمال في العالم، وجائزة أفضل شركة طيران في الشرق الأوسط، وجائزة أفضل صالة انتظار لمسافري الدرجة الأولى في العالم. وتشغّل الخطوط الجوية القطرية أسطول طائرات حديث يضم أكثر من 240 طائرة تتجه إلى أكثر من 160 وجهة عالمية عبر مقر عملياتها في مطار حمد الدولي. وأعلنت الناقلة الوطنية لدولة قطر -مؤخراً- إضافة عدد من الوجهات الجديدة إلى شبكتها المتنامية في عام 2019، بما في ذلك: لشبونة في البرتغال، ومالطا، والرباط في المغرب، ولنكاوي في ماليزيا، ودافاو في الفلبين، وإزمير في تركيا، ومقديشو في الصومال.