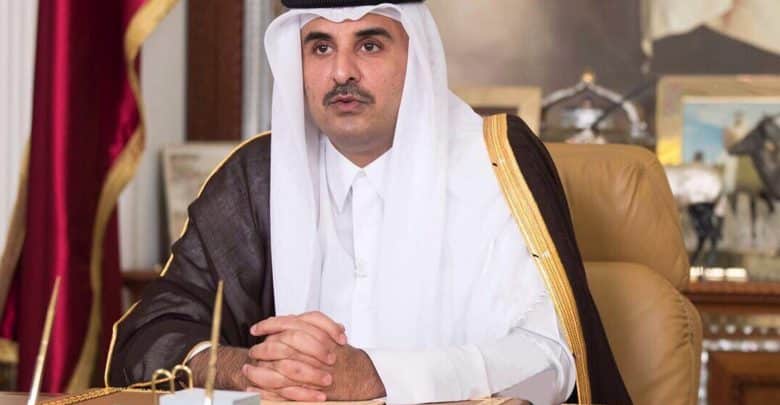 صاحب السمو يجري اتصالا مع الرئيس السريلانكي
AFP
Doha: HH the Amir Sheikh Tamim bin Hamad Al-Thani held a telephone conversation with HE President of the Democratic Socialist Republic of Sri Lanka Maithripala Sirisena on Monday evening.
During the phone call, HH the Amir expressed sincere condolences to HE the President and the people of Sri Lanka on the victims of the explosions which targeted churches and hotels in Sri Lanka, wishing a speedy recovery to the injured.
HH the Amir also expressed his strong condemnation of this horrific crime which was aimed at destabilizing security and stability and terrorizing the innocents, stressing that the State of Qatar stands ready to assist Sri Lanka in its efforts to combat terrorism and extremism.
For his part, HE the President of Sri Lanka thanked HH the Amir for his phone call and condolences on the victims of these terrorist attacks, and for the readiness of the State of Qatar to support Sri Lanka in its efforts in combating such attacks.
أجرى حضرة صاحب السمو الشيخ تميم بن حمد آل ثاني أمير البلاد المفدى، مساء اليوم اتصالا هاتفيا مع فخامة الرئيس مايتريبالا سيريسينا رئيس جمهورية سريلانكا الديمقراطية الاشتراكية، أعرب خلاله عن خالص تعازيه ومواساته لفخامته والشعب السريلانكي الصديق في ضحايا التفجيرات التي استهدفت كنائس وفنادق في سريلانكا، متمنيا الشفاء العاجل للمصابين.
كما أعرب سموه خلال الاتصال عن إدانته واستنكاره الشديدين لهذه الجريمة المروعة التي استهدفت زعزعة الأمن والاستقرار وترويع الأبرياء الآمنين، مؤكدا سموه أن دولة قطر على أتم الاستعداد لمساعدة سريلانكا في جهودها الرامية للتصدي للإرهاب والتطرف .
من جانبه شكر فخامة الرئيس السريلانكي سمو الأمير على الاتصال وعلى مواساته بضحايا هذه العمليات الإرهابية وعلى استعداد دولة قطر لدعم جهود سريلانكا في مواجهتها.