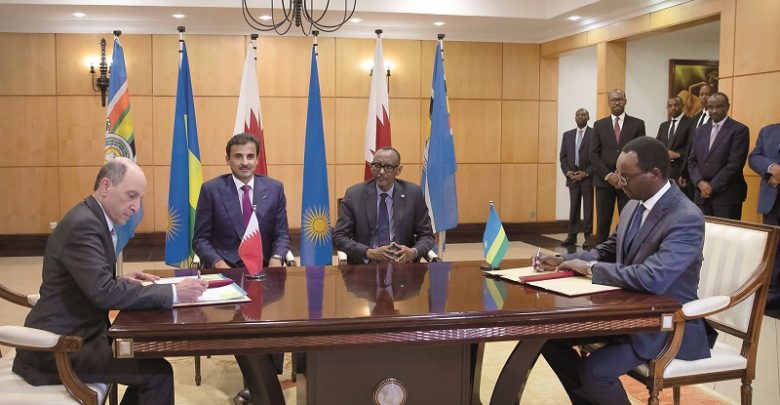 صاحب السمو والرئيس الرواندي يشهدان توقيع مذكرات تفاهم مشتركة
QNA
Kigali: Amir H H Sheikh Tamim bin Hamad Al Thani and President Paul Kagame of the Republic of Rwanda, held official talks at the Presidential Palace in the capital Kigali yesterday evening.
The meeting discussed the bilateral relations and means of enhancing them to develop cooperation between the two countries, especially in the fields of economy, investment, education, innovation, culture, sports and tourism. The talks also dealt with a number of regional and international issues of common concern.
H H the Amir and President of Rwanda witnessed the signing of an agreement and memorandums of understanding between the two governments in the presidential palace in Kigali. They witnessed the signing of an agreement in the airspace and two draft memorandums of understanding for cooperation in the fields of sport and culture, as well as a memorandum of cooperation in the fields of tourism and business activities.
Upon arrival at the Kigali International Airport, the Amir and the accompanying delegation were received by President Paul Kagame. The Amir was accorded an official reception ceremony, followed by a welcome performance for His Highness done by a folkloric Rwandan group.
عقد حضرة صاحب السمو الشيخ تميم بن حمد آل ثاني أمير البلاد المفدى، وفخامة الرئيس بول كاغامي رئيس جمهورية رواندا، جلسة مباحثات رسمية بالقصر الرئاسي بالعاصمة كيغالي مساء اليوم.
وبحثت الجلسة العلاقات الثنائية وسبل دعمها وتعزيزها بما يعزز ويطور فرص التعاون بين البلدين خاصة في مجالات الاقتصاد والاستثمار، والتعليم والابتكار والثقافة والرياضة والسياحة.
كما تناولت المباحثات عددا من القضايا الإقليمية والدولية ذات الاهتمام المشترك.
حضر الجلسة أصحاب السعادة أعضاء الوفد الرسمي المرافق لسمو الأمير.
وحضرها من الجانب الرواندي عدد من أصحاب السعادة الوزراء وكبار المسؤولين.