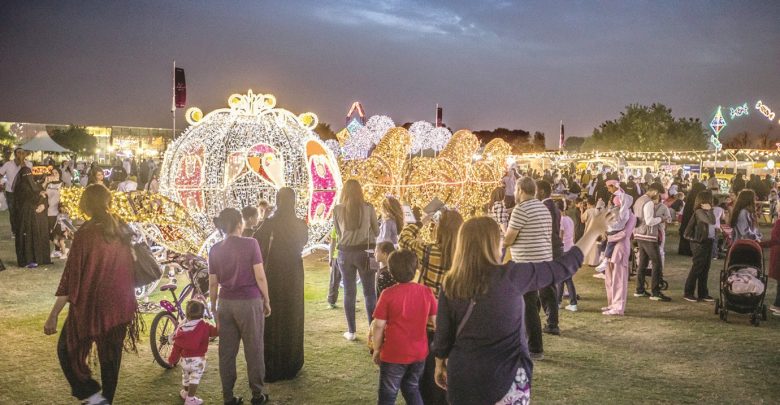 😎 LifeStyle
Aspire Wonderland Festival extended until Monday
مدّ فترة مهرجان «أسباير أرض العجائب» إلى يوم الإثنين
As per the audience's request and the tremendous turnout of visitors to Aspire Wonderland Festival, the organising committee has decided to extend the festival till April 1, Monday and the dancing fountain shows till tomorrow, March 30.
Since its official launch, the festival has drawn 15,000 visitors to the park, where they entered an imaginary gateway to the world of fantasy and folk tale.
Highlights include a spectacular dancing water fountain on Aspire lake that moves to the sounds of majestic melodies.
Audiences will have the opportunity to enjoy the dancing fountain shows today at 5pm, 6:40pm, 7:40pm, 8:10pm, 8:40pm, 9:10pm, 9:40pm, 10:10pm, 10:40pm 11pm and 11:40pm.
استجابةً لطلبات الجماهير المتزايدة، والإقبال القياسي على مهرجان «أسباير أرض العجائب» قررت اللجنة المنظمة للمهرجان بمؤسسة أسباير زون مدّ فترة المهرجان يومين إضافيين حتى يوم الاثنين الأول من أبريل، على أن تختتم عروض النافورة الراقصة يوم غد السبت.
ويطوف المهرجان بضيوفه في مسار أسطوري في عالم الحكايات الخيالية باستخدام أحدث تقنيات الإضاءة الحديثة، علاوة على العروض المبهرة ببحيرة أسباير، والفعاليات الترفيهية المصاحبة للمهرجان، وحظي بإقبال ما يزيد عن 10 آلاف زائر حتى مساء الأربعاء الماضي.
وسيكون بمقدور زوار المهرجان الاستمتاع بعروض النافورات الراقصة يومي الجمعة والسبت على رأس كل ساعة في التوقيتات التالية: 5:00 م، 6:40م، 7:40م،8:10م،9:10م، 10:10م، 11:40م.
المهرجان يأتي برعاية من «فودافون قطر» والمؤسسة العامة للحي الثقافي «كتارا»، والدعوة عامة للجماهير.