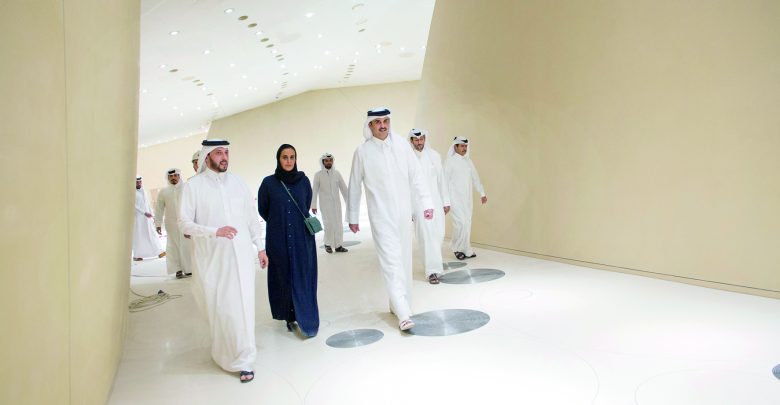 صاحب السمو يفتتح متحف قطر الوطني مساء اليوم
AFP
Doha: The Amir HH Sheikh Tamim bin Hamad Al-Thani will patronize, on Wednesday evening, the official opening ceremony of the National Museum of Qatar in its new building. His Highness will deliver a speech on this occasion.
The opening ceremony will be attended by a number of representatives of Their Majesties and Excellencies and Highnesses, heads of brotherly and friendly countries, as well as a number of prominent political, cultural, artistic and media figures, and a large group of heads of international companies and institutions, museum directors, academics, film directors, celebrities and those interested in the field of heritage from around the world.
يتفضل حضرة صاحب السمو الشيخ تميم بن حمد آل ثاني أمير البلاد المفدى، فيشمل برعايته الكريمة، مساء يوم غد الأربعاء، حفل الافتتاح الرسمي لمتحف قطر الوطني في مبناه الجديد، وسيلقي سموه كلمة بهذه المناسبة.
وسيحضر حفل الافتتاح عدد من ممثلي أصحاب الجلالة والفخامة والسمو رؤساء الدول الشقيقة والصديقة، بالإضافة إلى عدد من كبار الشخصيات السياسية والثقافية والفنية والإعلامية، ومجموعة كبيرة من رؤساء الشركات والمؤسسات العالمية، ومديري المتاحف والأكاديميين والمخرجين السينمائيين، والمشاهير والمهتمين بمجال التراث من مختلف دول العالم.