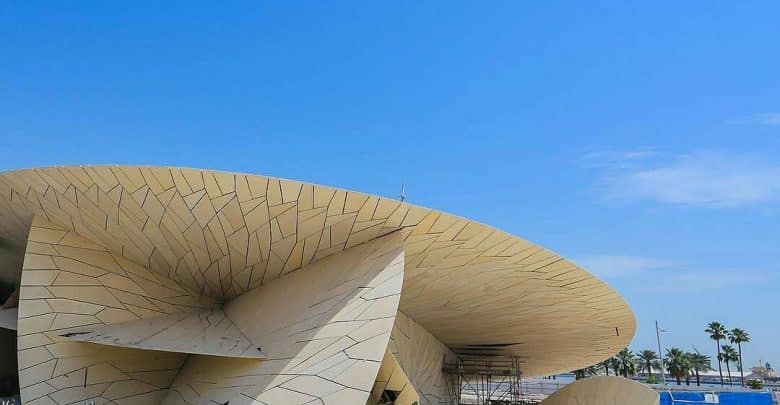 😎 LifeStyle
National Museum of Qatar is world's Best Futura Project
متحف قطر الوطني يحصد جائزة "أفضل مشروع مستقبلي"
DOHA: The internationally renowned MIPIM Awards named the National Museum of Qatar as the 'Best Futura Project' for its architectural and engineering qualities during their annual ceremony in Cannes this year.
Since 1991, MIPIM has honoured only the most outstanding and accomplished projects from around the world.
This year MIPIM looked beyond architectural aspects and honored projects that are making a new step towards connecting people in cities, using innovation and environmental qualities combined with beautiful design.
Reflecting on this achievement as the project management consultant, ASTAD Chief Executive Officer, Engineer Ali Al-Khalifa said: "This is the second internationally renowned award the National Museum of Qatar has won in the past year and I am so proud that it is getting the global attention it deserves. We will continue to work together with Qatar Museums to deliver this engineering feat and ensure it is brought to life safely and sustainably. I have no doubt that the National Museum of Qatar will be one of the Middle East's most iconic landmarks."
Qatar Museums Chief Executive Officer, Special Advisor to H E The Chairperson, Mansoor bin Ebrahim Al Mahmoud said: "The National Museum of Qatar is a celebration of Qatar's identity and will honor its rich heritage while connecting it to its future. Its continuous recognition in the area of architecture and innovation is a testament to its position as one of the country's most significant and ambitious cultural projects."
The National Museum highlights Qatar Museums' commitment to fulfilling the cultural goals of the 2030 Qatar National Vision, contributing towards creating a strong and sustainable cultural infrastructure for Qatar, and helping to build a diversified, knowledge-based economy. The design of the museum reflects the desert rose, commonly found beneath the sands of the Gulf region.
The structure is a highly complex organically propagating series of interlocking disks that surround the building, creating a ring of gallery spaces circling a central court.
The palace of the former ruler of Qatar, Sheikh Abdullah bin Jassim Al Thani is the landmark centerpiece that the National Museum of Qatar is being built around. Located along the Corniche of Doha the project will provide 8,000sqm of permanent and 2,000sqm of temporary gallery space.
أعلنت جائزة MIPIM، عن فوز متحف قطر الوطني بجائزة "أفضل مشروع مستقبلي"، وذلك لخصائصه المعمارية والهندسية المميزة، وذلك خلال حفلها السنوي الذي أقامته هذا العام في مدينة كان في فرنسا.
وما يميز هذا العام، أن جائزة MIPIM نظرت إلى ما وراء الجوانب المعمارية، وكرمت المشاريع التي تتخذ خطوات جديدة نحو خلق بيئة عمرانية مستدامة، وذلك بالابتكار في الخصائص البيئية إلى جانب الجمال في التصميم.
وقال السيد منصور بن إبراهيم آل محمود، الرئيس التنفيذي في متاحف قطر، والمستشار الخاص لسعادة رئيسة مجلس أمناء متاحف قطر: "يعد متحف قطر الوطني تجسيدا لأبرز ملامح الهوية القطرية وحلقة وصل بين ماضي قطر العريق ومستقبلها الواعد"، لافتاً إلى أن التقدير المتواصل الذي يلقاه المتحف في مجال الهندسة المعمارية والابتكار، يعد شاهداً على مكانته كأحد أهم المشاريع الثقافية في البلاد وأكثرها طموحاً.
إنجاز عالمي
قال المهندس علي آل خليفة، الرئيس التنفيذي في شركة إستاد، متحدثاً عن هذا الإنجاز، بصفته مستشاراً تنفيذياً للمشروع: "هذه الجائزة هي الجائزة الدولية الثانية التي حصدها متحف قطر الوطني خلال العام الماضي، وأنا فخور جداً بالاهتمام العالمي الذي يحظى به متحف قطر الوطني، الذي يستحقه بجدارة، وسوف نستمر في تعاوننا مع هيئة متاحف قطر لتحقيق هذا الإنجاز المعماري، وضمان إنجازه على نحو يراعي السلامة والاستدامة"، موضحاً أن متحف قطر الوطني سيصبح أحد أبرز المعالم المعمارية في الشرق الأوسط.