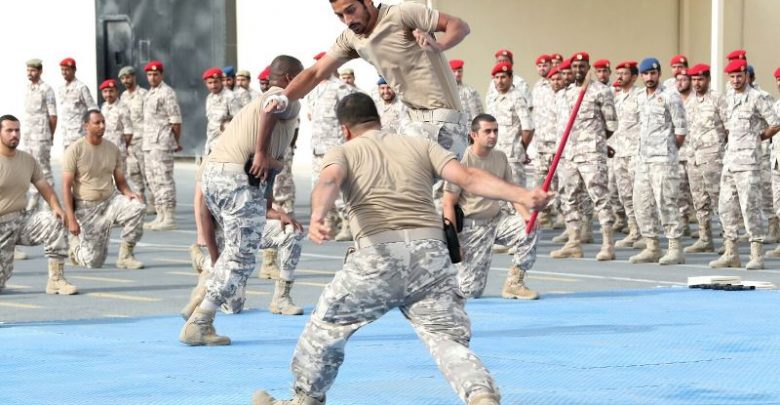 تخريج 108 أفراد في دورتي الشرطة العسكرية التأسيسية
Military police personnel perform during a graduation ceremony of 78/88 round of Military Police Courses 2018. The Directorate of Moral Guidance announced the graduation of the cadets yesterday.
أعلنت مديرية التوجية المعنوي بوزارة الدفاع عن تخريج دورتي الشرطة العسكرية التأسيسية رقم (87-88) ودورة الدفاع عن النفس رقم (1) ، بحضور سعادة اللواء الركن محمد مسهي الأحبابي قائد الشرطة العسكرية.
حيث بلغ مجموع المنتسبين للدورتين رقم (87) و (88) عدد 96 فرداً من قيادة الشرطة العسكرية وعدد 12 فرداً من أسلحة ووحدات القوات المسلحة ، أمضوا فيها فترة تدريب إستمرت لمدة 6 أسابيع.
ومن أهم المواضيع التي تناولتها كلتاالدورتين دراسة الأمن العسكري ، واجبات مندوبي التحقيق ، الاسعافات الأولية الميدانية ، الأجهزة اللاسلكية ، التحركات العسكرية على الطرق ، أمن وحماية الشخصيات الشرطة العسكرية في السلم والعمليات.
كما انتسب لدورة الدفاع عن النفس رقم (1) عدد 31 فرداً من قيادة الشرطة العسكرية وفردين من قيادة القوات الخاصة المشتركة ، إرتكز برنامجها الدراسي على مجموعة من المواد أهمها مادة اللياقة البدنية والقتال الوهمي وأساسيات الدفاع عن النفس وحماية الشخصيات اللصيقة ، وقد طبق أفراد الدورة التمارين النظرية والعملية والبرامج التي تؤهلهم لأعمال وواجبات الشرطة العسكرية في السلم والعمليات الحربية.
وفي نهاية حفل التخريج قام سعادة قائد الشرطة العسكرية بتوزيع شهادات التقدير والهدايا التذكارية على المتفوقين في الدورات الثلاث ، بحضور عدد من كبار القادة الضباط في القوات المسلحة القطرية.